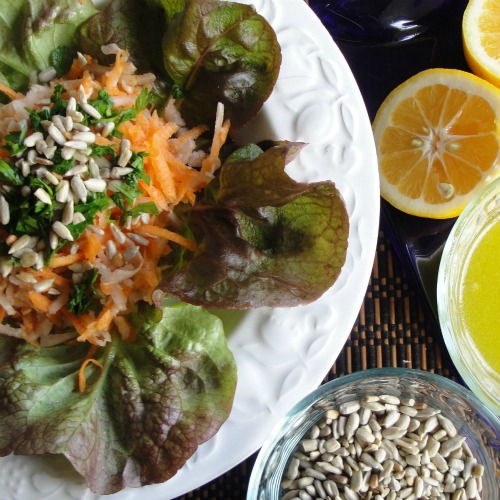 It's almost mid March and my Jerusalem Artichoke patch still had lots of tubers left to harvest. Over fall and winter we made lots of creamy vegetable soups, ate them sliced and sauteed with mushrooms, and added them raw and sliced thinly to salads. I harvested the last of them this weekend so that I could replant the patch anew with just a few tubers. They are so prolific that it's a good idea to dig all of them up and replant only three to four to have a huge crop for next fall and winter- otherwise they will quickly spread in the ground and become invasive.
Here's my last Jerusalem artichoke (sunchoke) recipe for the season: a grated Jerusalem artichoke salad with carrots and Meyer lemon vinaigrette. It's a lovely refreshing salad with in-season ingredients that will having you thinking that spring has already arrived.
Grated Jerusalem Artichoke (Sunchoke) Salad with Carrots and Meyer Lemon Vinaigrette
You Will Need:
1 cup cleaned and grated sunchokes, about 3 -4 medium sunchokes (it's not necessary to peel them)
1 cup peeled and grated carrot, about 1 large carrot
Lettuce leaves or mixed salad greens
Chopped parsley for garnish
Toasted sunflower seeds for garnish
Dress with Meyer Lemon or Citrus Vinaigrette (recipe below)
Yield: about 4 servings
To Compose the salad:
Mix the grated sunchokes and carrots in a bowl. Line 4 individual salad plates with the lettuce leaves or salad greens and mound the mixed sunchokes and carrots in the center of each. Sprinkle with chopped parsley and top with sunflower seeds. Drizzle with the vinaigrette and serve.
Meyer Lemon Vinaigrette
Combine:
1/4 cup fresh Meyer lemon juice, about 1 large lemon
Mix to dissolve the salt, then whisk in:
1/4 cup extra virgin olive oil (use more to your taste)
Yield: makes about 1/2 cup of very lemony dressing
Variations:
You can substitute regular lemon juice, but you'll have to use less juice or add more olive oil, since Meyer lemons are sweeter and less acidic than regular lemons.
Substitute lime or orange juice in place of the lemon juice.
Substitute cilantro for the parsley, and use toasted sesame seeds or chopped peanuts.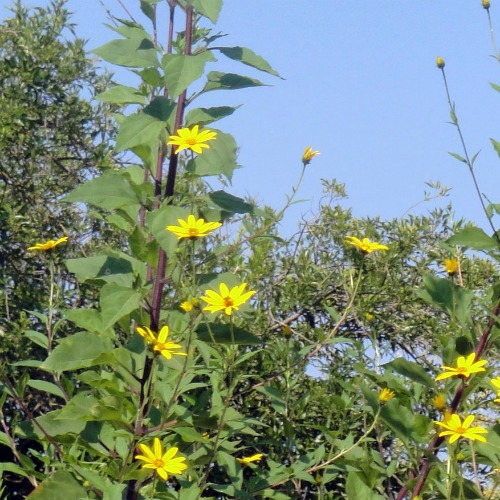 Jerusalem artichokes are easy to grow and will reward you with plentiful tubers throughout the fall and winter. Buy some now to eat and plant a few  as soon as there is no danger of frost in your area.
Read more about growing Jerusalem artichokes.
Photos: Urban Artichoke