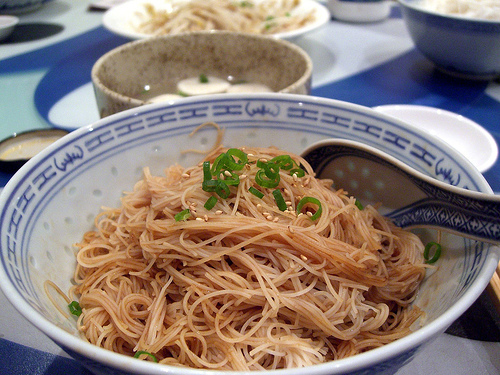 There's so much more to the wonderful world of noodles than old-world durum semolina pasta. And no, I'm not talking about substituting stringy spaghetti squash or strips of summer squash for pastalicious goodness.  Did you know there are gluten-free noodles made from rice, soy protein, quinoa, and even sweet potato starch? [social_buttons]

Rice Vermicelli
These thin noodles made from rice flour are also known as rice sticks or simply rice noodles. After cooking, rice vermicelli have a pleasant, creamy-white color.
Cellophane Noodles
Unlike rice vermicelli, cellophane noodles turn clear after cooking and are generally made from the starch of mung beans, cassava root, yam or potatoes.  Other names include bean threads or glass noodles.
Prior to using either rice vermicelli or cellophane noodles in a recipe, soak in boiling-hot water for approximately 15 minutes, or until fully reconstituted.
Tofu Shirataki
Traditionally made from nothing more than konjac yam starch, tofu shirataki noodles combine high-protein soy tofu and low-carb konjac to make a unique neutral-flavored noodle.  You will often find these packaged in liquid in the refrigerated section.
Quinoa Pasta
A replacement for standard pasta, these gluten-free, rice-free noodles usually contain a combination of quinoa and corn flours and offer a nice change of pace.
Tinkyada Rice Pasta
If quirky flavors aren't your style, and you're looking for a gluten-free pasta that's virtually indistinguishable from wheat pasta, then the Tinkyada brand is the way to go.
What's your favorite wheatless pasta? Let me know in the comments!
—
Image via Avlxyz on Flickr under a Creative Commons license