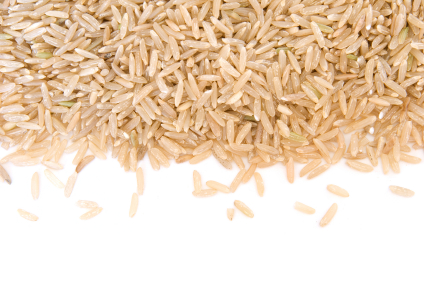 Brown rice has always been a staple in our household. From fall to spring, we cook at least one pot of brown rice per week. My kids have come to regard it is the basis of a quick and delicious meal and have since they started eating solid food and I mashed it up for them, which was a fairly long time ago, since my baby is 16 and my oldest is 24. So, as I ate my 12,526th bowl of left-over brown rice for lunch, I was inspired to consider a wee bit more on this potent grain.
Great for girls!
There are many reasons to love brown rice. According to the American Journal of Clinical Nutrition who published a Harvard Medical School / Brigham and Women's Hospital study, women who consumed regular whole grains, including brown rice weighed consistently less and were 49% less likely to gain weight compared to those eating foods made from refined grains.
Good for everyone
1 cup of brown rice offers over 27% of the DV of selenium, which is essential to thyroid hormone metabolism, antioxidant defense systems, and immune function. Selenium has been shown to repair DNA and synthesis in damaged cells, it inhibits the production and spread of cancer cells, and induces an awesome self-destruct sequence that the body uses to eliminate bad or abnormal cells. Go Selenium! But wait, there's more! Selenium teams up with vitamin E to create a powerful antioxidant system that not only helps to prevent cancer, but also heart disease, and decreases symptoms of asthma and the pain and inflammation of rheumatoid arthritis. Oh yea, the oil in whole brown rice lowers cholesterol. Can it eliminate cellulite and bad hair days too?????
There are many good nutritional reasons to eat more brown rice, but I'm not going to get into all of them here and now, but I will offer you a good link to learn more about the nutritional analysis of brown rice. And of course a couple of recipes . . .
GD Meg's Favorite Brown Rice Recipes
Easy Brown Rice Pilaf
Ingredients
1 – 2 Tbs. olive oil
1 bunch scallions – cleaned and chopped, using as much green as you like
several mushrooms – sliced (optional)
1 red pepper – chopped finely (optional)
2 – 3 cloves garlic – crushed (not optional as far as I'm concerned, but amount certainly is)
2 cups long grain brown rice*
2 – 4 cups vegetable broth*
Instructions
Saute the veggies till they wilt slightly (adding scallions last unless you are using only scallions). Add the crushed garlic with the rice and stir it all well so that oil is relatively evenly distributed. Don't wait too long to get the chicken broth in there. I use the 'knuckle' method for figuring out how much fluid to cook my rice in as taught to me by my big sis Lisa – have enough fluid so that when you stick your first finger (pointer) straight into the mix, the very tip of your finger should touch the top of the rice and the fluid should come to your first knuckle. I know you'll want to know how to adjust for different sized fingers, but honestly, it seems to work for ALL sizes. I have no idea what magic makes this work, but it does – every time. Bring the mixture to a good rolling boil and jam a good tight lid on and reduce the heat to it's lowest setting and set the timer for 1 hour. Don't peek at the rice until it is done.
*don't really have to measure if you use the knuckle method described above.
What to do with leftover brown rice you ask?
Meg's Leftover Fried Rice!
Ingredients
Scrambled Eggs or Tofu cubes – enough for each person being served to have at least 1 egg or 1/2 cup tofu
1 Tbs. Fresh Ginger – or as much as you like
1 – 2 Cloves Garlic – or as much as you like crushed
1 – 2 Tbs. Coconut Oil (the kind best for high-heat cooking)
Veggies! (choose your family favorites – we like carrots, peas, onions, mushrooms, peppers and sometimes even corn – try to proportion slightly less than amount of brown rice)
Cooked Brown Rice – as much as you like, proportion according to veggies
Cilantro – chopped to taste
Chopped/Slivered Almonds or Nuts – to taste
Instructions
First thing, whip up your scrambled eggs as per your favorite method and put aside in a covered dish to keep warm. If you have a wok, this is a great time to use it. If you don't, just get out your biggest, best saute pan. Warm up the garlic and ginger in the coconut oil and add in the veggies one at a time till they are all cooked, but not overly so. Add the rice and eggs and stir it good making sure everything is heated thoroughly. After done cooking, add cilantro and slivered almonds or nuts as you like.
Please share your favorite easy brown rice recipes!