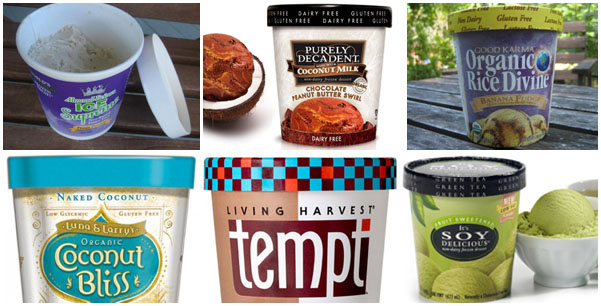 Summer is starting to wind down, and it's time to say goodbye to weeks of eating far, far too much delicious ice cream. Thanks for all of the great comments and suggestions. You guys really helped take this challenge to the next level!
After six weeks of grueling, scientific research, here is my favorite flavor and the runner-up:

And the winner is…
After five weeks of avoiding soy-based ice creams, I'm surprised to say that Turtle Mountain's Soy Delicious Green Tea was hands down my favorite! It was lower in fat and calories than most of the other contenders, but it still held up in the texture and taste departments. It also had a pretty unscary ingredients list, which isn't the case with a lot of commercial vegan desserts. As one commenter pointed out, read the ingredients on your box of Tofutti Cuties and you'll see what I mean.
The most surprising part is that I couldn't detect any of that beany, soy aftertaste that normally turns me off to soy-based dairy products. I definitely recommend picking up a pint of this awesome ice cream, if you haven't already!
A close second
The runner up was also from Turtle Mountain! The Purely Decadent Chocolate Peanut Butter Swirl knocked my socks off. It was rich and creamy with a nice coconut flavor. Because it's higher on the fat and calories, this felt like more of a special occasion treat in my book.
While the peanut butter fudge flavor had a pretty hefty ingredients list, that was partly because there was just a lot going on in that one little pint. Take out the organic vegan fudge and the peanut butter, and it's a different story. Their simpler flavors had lists that were pretty comparable to the Soy Delicious.
I promise that Turtle Mountain had nothing to do with the challenge results. These guys just know how to make an awesome vegan ice cream, whether the base is soy or coconut. You go, Turtle Mountain!
Want to read the other vegan ice cream reviews? Check out all six weeks of the Vegan Ice Cream Challenge right here. The pre-made stuff can get a bit pricey, though. If you want to have a go at making your own, check out this recipe for Chocolate Goji Vegan Ice Cream or you can even pick up a whole book of vegan ice cream recipes!