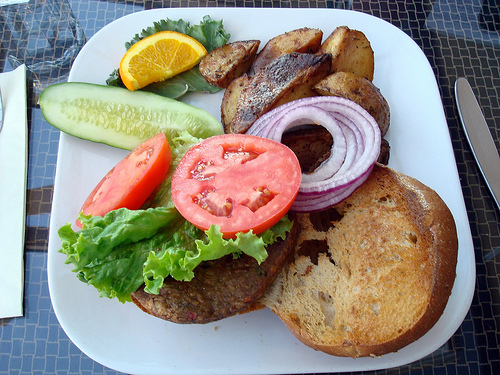 It might not be Monday, but that doesn't mean you can't sneak in some meat-free, carbon friendly eats at your weekend barbecues!  While burgers and hot dogs might be traditional, they're certainly not doing the environment–or your health–any favors.  Why not surprise your hosts or guests by providing some unexpected and delicious vegan options at your next summer get together?  Here are my favorite ideas for meat and dairy free barbecue dining:
Roasted corn on the cob with olive oil, chili, and lime. You can roast corn in its husk right on the grill–just remember to get rid of the silky stuff so it doesn't catch fire!  Afterwards, peel back the husks and drizzle with an easy dressing of olive oil, lime, salt, and chili powder.
Awesome veggie burgers.  No, I don't mean frozen Boca patties.  This brown rice and vegetable-based burger recipe comes from LA macrobiotic eatery M Cafe.  Dress it up with a toasted whole grain bun, lettuce, tomato, sprouts, plenty of avocado slices, and a dollop of vegan Thousand Island dressing.
Vegetarian baked beans. Hopefully you're making your baked beans from scratch instead of getting them from a can. If you are, good job, but you don't need bacon to make great baked beans! My favorite recipe?  Berry Beer Baked Beans, featuring beer (of course!) and dried cherries.
Jacket sweet potatoes. Roast sweet potatoes on the grill, then top with cooked black beans, salsa, and guacamole for an inexpensive but super filling entree.
Grilled pizza. I first saw the idea for grilled pizza on Ina Garten's Food Network show, The Barefoot Contessa, but her's definitely wasn't vegan.  The Post Punk Kitchen recently  blogged about grilled pizza that's dairy free–and delicious.  You can go for soy cheese, but I prefer a tofu-based ricotta spread or a generous dollop of pesto for salty richness.
TLTs. Tempeh, lettuce, and tomato, that is. It might not be the first thing that comes to mind when you think of an outdoor cook-out, but it's laid-back food you can eat with your hands. Slap some tempeh bacon on the grill, then put on toasted bread with lettuce, tomato, and plenty of vegan mayo.
Punched-up tabbouleh. Whip up a batch of your favorite tabbouleh salad with parsely, bulghur wheat, diced cucumber and tomato, lemon juice, and olive oil, then add in tons of chopped toasted almonds and pistachios for extra crunch and protein to make a satisfying main dish.
Easy as pie fruit crumble. Actually, its a whole lot easier than pie.  In a casserole dish, toss your favorite summer fruit with lemon or orange juice, sugar, and flour to coat. Then, drizzle vegetable oil over a mixture of flour, brown sugar, oats, and chopped nuts until the consistency is clumpy. Spread the crumbly topping over the fruit and bake at 400 until warm, gooey, and irresistable.
Related posts:
–Meatless Monday: 10 Vegan Breakfast Ideas