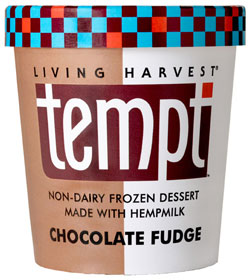 It's been hovering in the upper 90s here in Atlanta, and weather like this makes me crave ice cream like no other. This year, I'm on the hunt for my favorite vegan ice cream! The plan is to try new pints each week and share my findings right here. I know, it's a tough life I've got.
This week's pick was a suggestion from my pal Rachael who works at the local co-op. It turns out they carry Living Harvest's Tempt, a hemp-based ice cream. Hemp! I was pretty excited to try this one. Hemp is really excellent for you. It's packed with essential fatty acids and all nine amino acids. On top of the superfood base, this ice cream is soy- and gluten- free, too! I felt pretty good about myself when I picked out a pint of chocolate fudge Tempt and served up a generous bowl after dinner. So what's the scoop?

The Stats
Ingredients: Hempmilk (Filtered Water, Whole Hemp Nut [Shelled Hemp Seed], Rice Solids), Organic Sugar, Organic Tapioca Solids, Organic Sunflower And/Or Safflower Oil, Organic Chocolate Base (Organic Sunflower Oil, Organic Cane Juice, Organic Cocoa [Processed With Alkali], Natural Flavor, Sunflower Lecithin [Emulsifier]), Organic Fudge Ripple (Organic Evaporated Cane Juice, Water, Organic Cocoa [Processed With Alkali], Organic Tapioca Starch, Natural Vanilla, Salt, Carrageenan), Organic Cocoa, Organic Agave Inulin, Organic Tapioca Starch, Sunflower Lecithin [Emulsifier]), Sea Salt, Organic Locust Bean Gum, Organic Guar Gum, Xanthan Gum, Carrageenan, Natural Flavor
Calories per 1/2 cup: 200
Total fat per 1/2 cup: 11g
Total saturated fat per 1/2 cup: 1.5g
Total fiber per 1/2 cup: 2g
1/2 cup contains: 6% of your iron (based on a 2000 calorie diet)
Price: $3.69 per pint
The Verdict
That is some ingredient list! Just like the Organic Rice Supreme, though, this is due in part to the flavor I picked. The fudge swirl pretty much doubles the ingredients. Check out the Tempt vanilla bean flavor's nutritional information to see what I mean.
Despite being a bit lower in fat than some of the other varieties I've tried, this stuff was rich! It was sort of tough to scoop straight out of the freezer, but a few minute out on the counter softened things right up. It had a deep, chocolaty flavor and was nice and a creamy texture. There was sort of a faint aftertaste. It reminded me a bit of a soy product in that respect. The taste wasn't necessarily bad, just distinct. It certainly didn't stop me from serving up a second helping!
I'm pretty intrigued by their coffee biscotti flavor. Have any of you tried that one? It was a tough call between the chocolate fudge and that one!
Living Harvest makes hemp milks, ice creams, and protein powders. They also have a line of hemp nuts and oils. You can shop for some of their products on the Living Harvest website, though they don't sell their ice creams online. To find a store that carries Tempt, check out their store locator!