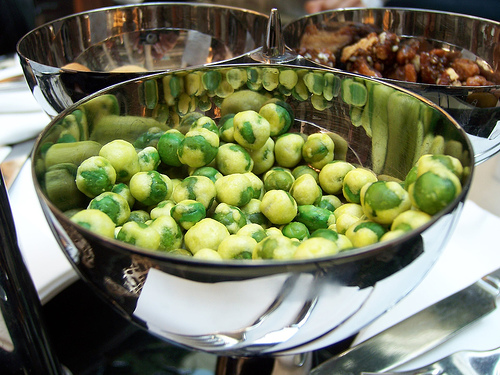 After buying a can of wasabi peanuts at our local Asian grocery store…I can't get enough. Even though they burn my nose and make my eyes water…I can't stop eating them.
They're a reasonable healthy snack. Peanuts are good for you even though they are high in calories.
Here's a recipe to try making your own wasabi peanuts:
Ingredients
1 egg white
1 tablespoon water
1 pound (about 3 cups) whole peanuts (shelled)
2 tablespoons wasabi powder (not the paste – can be found in most grocery stores in the Asian section)
2 teaspoons salt
2 teaspoons cornstarch
Materials
Instructions
Preheat oven to 275°F.
Line a baking sheet with greased foil or parchment paper.
Whisk egg white and water together until foamy.
Add peanuts and toss to coat with the egg-water mixture.
Transfer to a sieve; toss gently and let drain.
Stir together wasabi powder, salt and cornstarch in a large bowl.
Add peanuts and toss to coat with the wasabi mixture.
Spread peanuts on baking sheet in a single layer, and bake 30 minutes.
Gently stir, reduce temperature to 200°F and continue baking 20 more minutes.
Making them vegan
Does anyone have any ideas for making the recipe vegan? I can't think of an appropriate substitute for the egg. I thought of honey (not vegan), so maybe corn or maple syrup?
…
Photo: Flickr Creative Commons by 
troismarteaux
 (which are actually wasabi peas, not peanuts, sorry)