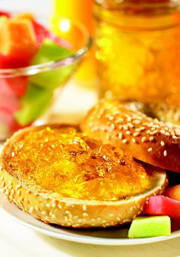 "If you can make a batch of cookies, you can can."
If the idea of home canning leaves you in overwhelming, uncomfortable culinary territory, take heed of the above advice from Linda Amendt, a woman on a mission to help us rediscover the joys of homemade preserves. Winner of over 900 awards in state fair culinary competitions and author of two cookbooks — Blue Ribbon Preserves: Secrets to Award-Winning Jams, Jellies, Marmalades & More and 175 Best James, Jellies, Marmalades and Other Soft Spreads – Amendt focuses on keeping things simple and satisfying.
Here are four starter tips from Amendt on getting started in canning homemade preserves, the easiest route for novice canners.. While the summer fresh produce season is – sniff – behind most of us, fresh apple cider is still available and makes a great beginner project (recipe after the jump) and creative holiday gift.
1. Start with One Fruit
First time making jam? Start with a simple one-fruit recipe, such as strawberry or peach.
2. Use High Quality Fruit
"Focus on using fruit that has good flavor and texture," advises Amendt. "Don't use bruised or damaged fruit as that may already have bacteria on it."
3. Try Tested, Modern Recipes
Don't automatically reach for Grandma's recipe book for a jam recipe. Modern recipes have been tested for canning safety and are often much simpler.
4. Add Pectin
Pectin, either powdered or liquid, enables the jam to readily jell and reduces cooking time. "Long cook" recipes that don't use pectin require a lengthy boiling time, often loosing the fresh fruit flavor.
Apple Cider Jelly Recipe
From 175 Best Jams, Jellies, Marmalades & Other Soft Spreads by Linda J. Amendt (2008; Robert Rose Inc.):
"Apple cider creates a jelly with intense apple flavor," adds Amendt. "This jelly is a multiple blue ribbon and special award winner at many fairs. In addition to spreading on toast and biscuits, use warmed Apple Cider Jelly as a glaze for apple tarts."
Makes about seven 8-ounce (250 mL) jars
Ingredients:
3-3/4 cup (925 mL) unsweetened apple cider
6-1/2 cups (1.625 L) granulated sugar
2 pouches (each 3 oz/85 mL) liquid pectin
Directions:
1. Prepare canning jars and lids and bring water in water bath canner to a boil.
2. If the cider contains sediment or pulp, strain it before measuring. To strain cider, place a sieve over a pan or bowl and line it with a piece of damp folded fine-knit cheesecloth. Pour cider into the lined sieve, being careful not to disturb any sediment in the bottom of the container.
3. In an 8-quart (8 L) stainless steel stockpot, combine cider and sugar. Bring to a boil over medium heat, stirring constantly until sugar is completely dissolved.
4. Increase heat to medium-high and bring to a full rolling boil, stirring constantly. Stir in pectin. Return to a full rolling boil, stirring constantly, and boil for 1 minute.
5. Remove pot from heat and quickly skim off any foam.
6. Immediately ladle hot jelly into hot jars, leaving 1/4 inch (0.5 cm) headspace. Wipe jar rims and threads with a clean, damp paper towel. Center hot lids on jars and screw on bands until fingertip-tight.
7. Place jars in canner, making sure they are covered by at least 1 inch (2.5 cm) of water. Cover and bring to a gentle boil. Process 4-ounce (125 mL) jars and 8-ounce (250 mL) jars for 10 minutes; process 1-pint (500 mL) jars for 15 minutes.
8. Remove jars from canner and place on a wire rack or cloth towel. Let cool for 24 hours, then check seals. Wash and dry jars and store in a cool, dry, dark location.
Variation
Unsweetened apple juice may be substituted for the apple cider; however, the jelly will have a milder flavor.
Photo credit: 175 Best Jams, Jellies, Marmalades & Other Soft Spreads (Robert Rose Inc.).