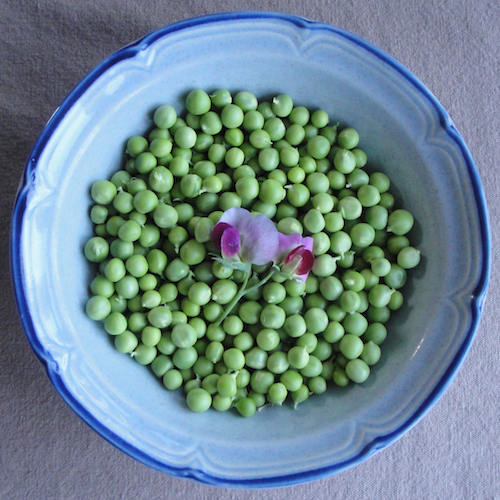 Don't despair if you are sitting in June heat- this delicate soup is tasty served cold too. You can still find fresh peas to shell for this lovely simple soup at your farmer's market if you don't have any in your garden.
Shelling Time is Quality Time
This is a very easy recipe with just a few ingredients, and the most challenging part is getting all of those peas shelled. You may want to recruit some help. It would be a perfect opportunity to shell peas with a friend and catch up during the process. You might even be able to get some kids to help and show them where peas come from (besides a bag in the freezer!).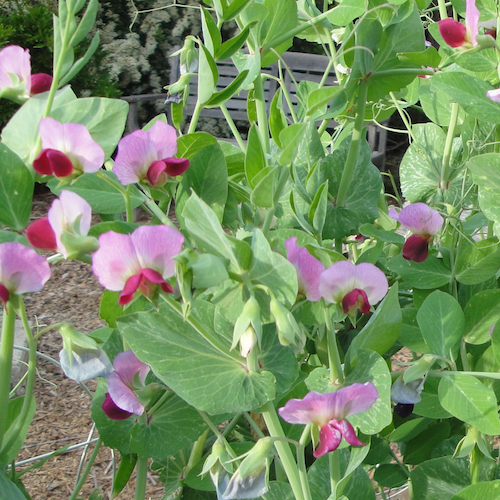 Dwarf Gray Sugar Peas
When I finally harvested the last of my heirloom Dwarf Gray Sugar peas I had about two pounds of podded peas. I couldn't wait to make a fresh pea soup now that I had enough peas. We enjoyed the mildly sweet fresh peas all spring, either shelled and raw in salads, or lightly cooked with pasta, or mixed with vegetables.
I let the peas get big in the pod, so I could shell them, but this variety is also eaten as a very young tender pod. I recommend sugar peas versus English peas, which are very starchy. I don't know how this recipe would turn out with that variety.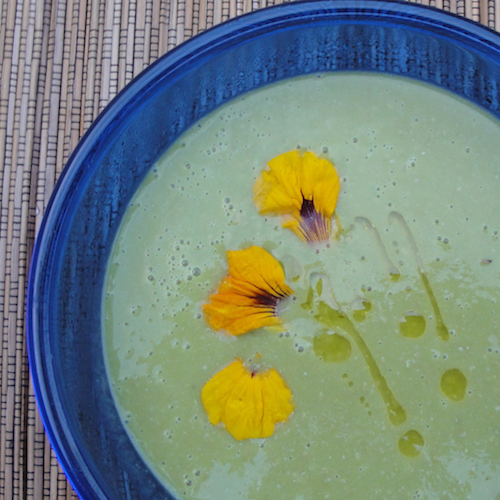 You Will Need
2lbs Fresh peas (about 3 cups shelled; you can shell ahead of time and refrigerate for a day or two)
1 Medium yellow onion, diced, or 2 spring onions, tender parts chopped
2 Sprigs of thyme (optional)
Salt to taste
Olive oil
Makes four main course servings
Four Steps to Soup
1. Heat 2 -3 tablespoons of olive oil in a heavy pot and gently sauté the onion with the thyme sprigs.
2. When the onions are soft  (don't brown them) remove the thyme and carefully add 5 cups of water and ½ teaspoon of salt (more or less as desired).
3. Bring this to a boil and add the shelled peas. Simmer for a few minutes until they are just tender.
4. Remove the pot from the burner and use a stick blender to puree the soup until it is silky smooth. Careful with splashing, as per usual.
Serve immediately or chill and serve cold.  A garnish of edible flowers with a drizzle of extra virgin olive oil is a pretty and elegant touch. I used nasturtiums which add brilliant color and just a hint of peppery spice.
This recipe was adapted from Alice Water's method in The Art of Simple Food, a book I highly recommend.
 Photos: Patricia Larenas, Urban Artichoke