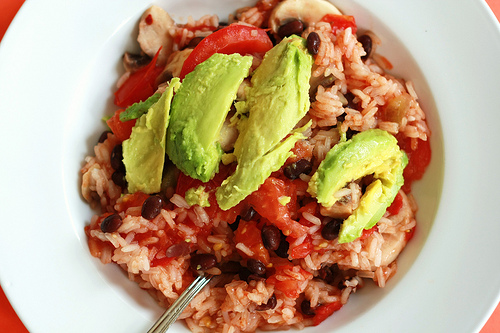 Over on Facebook, I asked you guys if there were any common vegan pitfalls that you ran into that made you feel like eating vegan was too hard to manage. One that a few folks brought up was that you saw a vegan diet as an expensive one.
While you can certainly break the bank buying fancy-pants vegan foods, you don't have to spend a lot to eat vegan. In fact, if you avoid pricey, processed vegan foods you'll probably see your food spending go down when you cut out the meat. Here are some examples of inexpensive, tasty foods that won't kill your budget.
Beans
Beans are protein superstars. They're also cheap, filling, and easy to prepare. If you're on a very tight budget, dried beans are a great way to stretch your food dollars. Tip: If you soak them overnight before cooking, they simmer up much faster than if you try to cook them from dry.
For convenience sake, it's nice to have a few cans of beans on hand for quick, weeknight meals as well. Beans are great in soups, stews, salads, tacos, wraps…pretty much anywhere you need to add some protein and flavor.
Whole Grains
While protein combining isn't necessary at every meal, whole grains do help round out your vegan proteins. Grains are easy to prepare, and generally pretty inexpensive. If your local market sells grains in their bulk bins, there's a good chance you'll find the best deals there.
Fresh Fruits and Veggies
Want fresh, cheap produce? Shop local and seasonal. A good way to stock your kitchen with inexpensive, fresh produce is to join a CSA or check out your local farmer's market. Local Harvest is a great resource to help you track down fresh, locally-grown produce near you.
In some places, it's tough to find a farmers market or CSA, especially in winter. If that's the case for you, check out what's local or regional at the local grocery store and plan your meals based on what's reasonably priced.
Meat and Dairy Substitutes
This is where you can start spending the big bucks, so if you're on a tight budget, use these sparingly. For example, instead of shelling out the cash for pricey vegan cheese, try making a cheeseless pizza loaded with so much goodness you won't miss the cheese.
Nutritional Yeast
Yep. I love nutritional yeast so much it gets its very own category. It's an excellent source of dietary vitamin B12, and that mild, cheesy flavor can turn any dish into comfort food. Prices for nutritional yeast can vary wildly depending on where you buy it, even in the same store.
At the Whole Foods near me, for example, if you get your nutritional yeast in the supplement section, you'll pay over $10 for a bag. If you hit the bulk bin, though you can often get plenty of nooch for just a few bucks.
I'm sure there are other ways to eat vegan without overspending. Do you guys have any tips or any other questions? Let's continue the discussion in the comments!
Image Credit: Creative Commons photo by Sweet on Veg