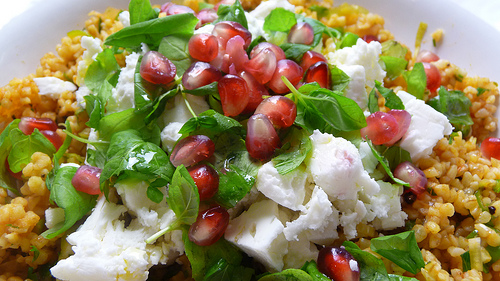 My husband and I eat a lot of salads, and we have a tendency to go on vinaigrette-kicks. Ever since the weather turned chilly, we've been obsessed with one vinaigrette in particular: pomegranate molasses. It's simultaneously sweet and tart – reminiscent of balsamic vinaigrette only much fruitier.
Pomegranate vinaigrette is perfect on winter salads and cool-weather greens like kale, chard, and spinach. It's also lovely on roasted vegetables.
Here's the recipe:
1/2 cup extra virgin olive oil
1 tablespoon pomegranate molasses*
2 tablespoons warm water
2 teaspoons honey or agave nectar
Sea salt and freshly ground black pepper
Whisk all of the ingredients together in a medium-sized bowl or shake in a mason jar. Drizzle on greens or roasted vegetables.
*You can find pomegranate molasses at larger grocery chains, global food stores, and on the web. You can also make this Middle Eastern staple at home using pomegranate juice.
Image courtesy of Blue moon in her eyes via a Creative Commons license.