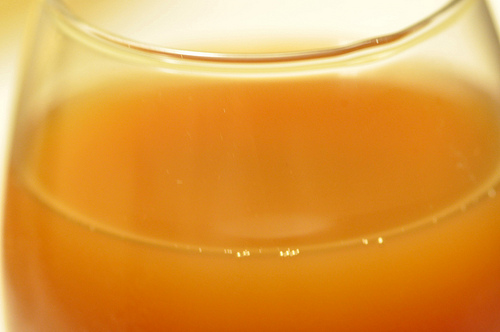 A few weeks ago I picked up one of Bragg's Apple Cider Vinegar Drinks at my local health food store. I was surprised by how much I liked it, especially because I've always found the dilute apple cider vinegar recipe people use as a weight-loss aid to be rather foul-tasting.
Bragg's version was pretty tasty – like a low-calorie version of apple cider – so I decided to try to recreate it. Here's my homemade version:
2 cups cold water
1/4 cup apple juice
1 tablespoon raw apple cider vinegar
1 teaspoon stevia
sprinkle of ground cinnamon or ground ginger
Combine in a mason jar and shake well. Serve cold.
This apple cider vinegar drink has been my go-to natural sports drink for winter work-outs. It's both refreshing and warming.
Image courtesy of NedraI via a Creative Commons license.