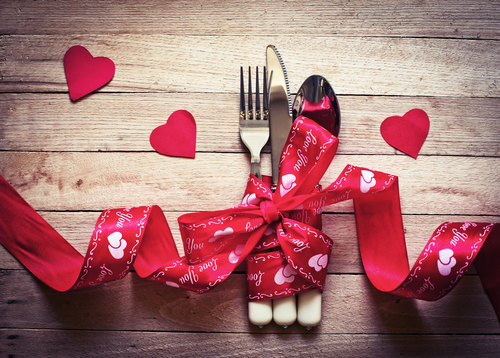 Candles, check. Romantic music, check. Flowers, check. Delicious food…big check! Why deal with getting the perfect reservation, overpaying for a meal that is half the price on any other day or curbing your drinking because you have to drive? And for most folks, it's still cold outside so what better way to keep warm on Valentine's Day than to cook for your honey and stay home for a romantic evening? These vegan Valentine's Day dinner ideas are sure to please, especially when you add the secret ingredient of love!
Passionate Pomegranate
6 ounces organic vodka (remove for a non-alcoholic beverage)
2 ounces seltzer
4 ounces Triple Sec (remove for a non-alcoholic beverage)
4 ounces pomegranate juice
2 lemons, juiced
1 pomegranate, seeded
Combine vodka, seltzer, Triple Sec, pomegranate juice, and lemon juice in a cocktail shaker over ice; shake. Pour into a chilled cocktail glass; garnish with pomegranate seeds.
Roasted Artichoke with Garlic Aioli
1 large artichoke
2 tablespoon olive oil
1/2 teaspoon salt
1/2 teaspoon garlic powder
1 1/2 cups water
3/4 cup vegan mayonnaise
Half head of garlic (roasted in tin foil with olive oil, salt and pepper for 30-40 minutes)
In a medium sized pot, place artichoke in water and bring water to a boil. Cover, reduce heat slightly and allow to steam for 15 minutes. Remove artichoke from pot, place in baking pan and drizzle with olive oil, garlic and salt. Bake artichoke in 400 degree oven for 30-40 minutes, until soft. Meanwhile, blend together mayonnaise and the roasted garlic until well mixed. Add salt and pepper to taste. When artichoke is done cooking, allow to cool slightly. To eat, pull leaves from the artichoke, dip in chipotle sauce and enjoy!
My Heart "Beets" For You Salad
1 bunch of beets (4-5), leaves removed
2 large navel oranges, peeled and sliced
1 bunch of arugula leaves, cleaned, and stems removed
Sliced red onion
1/4 cup chopped walnuts
Dressing
1/4 cup white wine vinegar
1/4 cup olive oil
1/4 teaspoon dried mustard
Salt and pepper to taste
(mix all the ingredients in a glass container)
Salad Prep: Cook the beets with their peel on. Cover the beets with water, bring to a boil, and simmer for 30 minutes or until beets can easily be pierced through with a fork.  After cooking, allow the beets to come to room temperature and remove their peels and then slice them. Place them in a small bowl and marinate them in half of the dressing recipe above. On individual salad plates place the arugula, a few slices of orange, a few beets, a few slices of red onion and some chopped walnuts. Sprinkle dressing over the individual salads.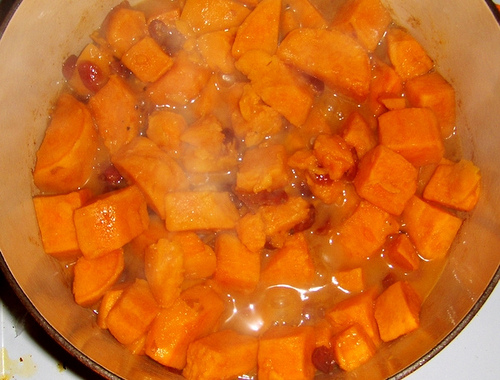 Sweet Shepherdess Pie
1 tablespoon olive oil
1 large onion, sliced
2 large carrots
2 tablespoon thyme chopped
1 cup red wine
1 16 oz can diced tomatoes
2 vegetable stock boulion cubes
1 16 oz can green lentils
4 cups sweet potatoes , peeled and cut into chunks
2 tablespoon vegan butter
1/3 cup vegan cheddar cheese, grated
Heat the oil in a frying pan, then fry the onion until golden. Add the carrots and all but a sprinkling of thyme. Pour in the wine, 3/4 cups of water and the tomatoes, then sprinkle in the stock cubes and simmer for 10 mins. Tip in the can of lentils, including their juice, then cover and simmer for another 10 mins until the carrots still have a bit of bite and the lentils are pulpy. Meanwhile, boil the sweet potatoes for 15 mins until tender, drain well, then mash with the butter and season to taste. Pile the lentil mixture into a pie dish, spoon the mash on top, then sprinkle over the cheese and remaining thyme. The pie can now be covered and chilled for 2 days, or frozen for up to a month.
Heat oven to 375 degrees. Cook for 20 mins if cooking right away, or for 40 mins from chilled, until golden and hot all the way through.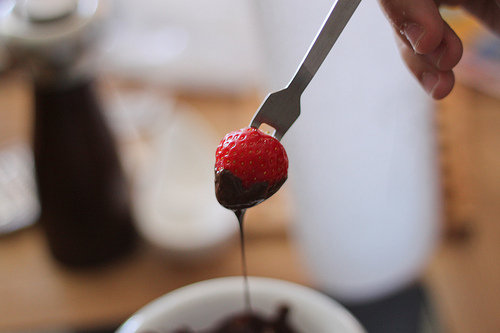 You Make Me Melt Molten Chocolate Cake
5 – 6 ounces dark chocolate
6 tablespoons vegan butter
1/2 cup sugar
2 egg replacers, mixed
1/2 cup flour
Vegan whipped or ice cream
Preheat oven to 400 degrees F. Lightly grease four 4-ounce custard cups. In double boiler, melt chocolate and butter. Stir in sugar. In a small bowl, lighly beat egg the replacer. Add some chocolate mixture to eggs to temper eggs. Carefully, stir "egg" mixture into chocolate mixture. Add flour and combine completely. Add batter to custard cups. Place on baking sheet and bake for 10 minutes. Centers should be soft but sides should be done. Invert cups on individual serving plates. Remove cups after 2 minutes. Serve warm with whipped or ice cream.
Vegan Chocolate Fondue
1/4 cup vegan butter
8 ounces chocolate chips or dark chocolate
2 tablespoon flour
1/2 cup corn syrup
1/2 teaspoon vanilla
2 tablespoon soy milk
1/2 teaspoon vanilla
1/4 cup Kahlua or other flavored liqueur
Melt butter, chocolate and soy milk together in saucepan. Once melted, remove from heat, add the rest of the ingredients, combine well and transfer to fondue pot to keep warm. Serve with fresh fruit, pound cake, or sweet bread.
And if you want to really get fancy, check out these 23 Valentine's Day Heart Crafts from Crafting a Green World
Image Credits: Tablescape photo via Shutterstock; Creative Commons photos by donutgirl and Denis Dervisevic