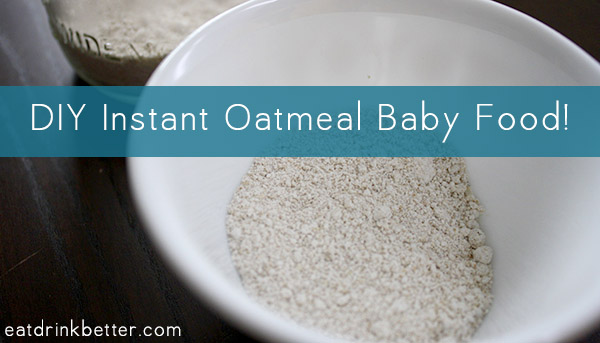 Figuring out how to make baby food that's simple and nutritious can be tough. This instant oatmeal will make your life so. much. easier.
My baby is almost eight months old, and I've been figuring out how to make baby food for him day by day. He's eating a nice variety of fruits and veggies right now, and I'm working on adding more whole grains to his diet. Quinoa did not go over super well, but this kid loves oatmeal!
Everything I've ready about how to make baby food oatmeal from scratch goes something like this:
Grind the oats into flour in your blender.
Cook, stirring constantly for 10-15 minutes, so you don't get any lumps.
The common wisdom also seems to be that you after spending 15 minutes over the stove, you can't freeze this oatmeal, so you need to do this every few days. That might seem like a lot, but for a mom juggling baby care, work, and trying to keep the house somewhat in order, that was a little bit overwhelming.
Then, I went to visit my mom over the summer. We just stayed for a weekend, but she was so excited about feeding my kiddo, that she went on a mini baby food shopping spree. She got lots of purees of course, but the thing that gave me pause was a box of infant oatmeal she picked up.
I turned the box over to read the back, and the only ingredients were oatmeal and vitamins. But unlike when I make my baby's oatmeal from scratch, the instructions on how to make baby food oatmeal from the box said: Just add water.
WHAT?? Surely, they weren't doing something magical to this oatmeal that I couldn't do at home, right?
When I got home, I picked up a box of quick-cooking organic oats, figuring that those are already partially ground, but they're still much less expensive than the infant oatmeal. Then, I dumped the oats in the blender, and let 'er go. And go. And go. Until the oats got super fine. Then, I put a scoop of oats in a bowl, added a splash of water, and gave it a stir and a taste.
It tasted just like the instant oats, but it cost a fraction of the price!
It's really as easy as that, but for posterity, here's how to make baby food oatmeal:
Instant Oatmeal Baby Food
Ingredients
2 cups

organic quick-cooking oats

water
Method
Put the oats into the blender, and puree until you have a super fine powder. You can store these in a clean, dry glass jar in the fridge for up to a week.
To make a serving: mix one part oat puree with one part water, and stir. You can add more water to thin it out, depending on what consistency your baby prefers.