By Sharon Palmer, RD from The Plant-Powered Diet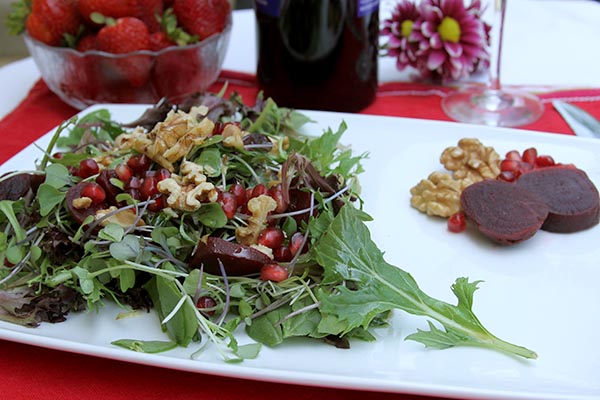 Food-filled festivities are inevitable this time of year. Whether it's a workplace potluck, a cocktail party, or a good old-fashioned family gathering, food ultimately plays a starring role. And while health is often put on the back burner this time of year, perhaps it's time to start a new holiday tradition – a tradition that embraces both good food and good health. This is where a plant-powered diet comes into play.
You see, as a registered dietitian and food and nutrition journalist, I live and breathe nutrition. After more than 30 years of poring over nutrition studies, traveling to nutrition conferences, and talking to scientists in search for strategies to help teach individuals ways to live longer, more vibrant lives – I have reached one simple piece of advice. Eat more whole plants. That's the recommendation I give when asked about the best diet for optimal health. And this straight- forward recommendation can apply to everyone from a strict vegan, who does not eat any animal products to an omnivore, wanting to increase their intake of whole plant foods.
So why is a plant-based diet so healthy? It makes sense that when cut back on animal products in favor of more whole plant foods, you naturally reduce the amount of saturated fat and cholesterol you eat. If you're eating more whole grains, legumes, vegetables, fruits, seeds and nuts, you're gaining more health-promoting nutrients, such as fiber, vitamins, minerals, and phytochemcials.
Plant based eating also goes beyond the health benefits for you and your family; it's good for Mother Earth, too. Plant foods such as fruits, vegetables, bread, pasta, and whole grains have a lower impact on the environment than foods such as meat, poultry, fish, dairy, and eggs. Think about this: even if your four-person family takes steak off the menu for one day a week, it would be like taking your car off the road for almost three months.
Even better, this simple change to embrace a plant-powered diet can start right now, right at your holiday table. While our meat-loving American ways tend to love having turkey, ham, or roast beef at the center of our holiday plate, all it takes is a small shift to start reaping the benefits of a plant-powered diet. For example:
When planning your holiday menu, start with the vegetable and whole grain component instead of the animal protein. This time of year, winter squash such as acorn, banana, turban, butternut, hubbard, and kabocha varieties rank at the top of my list for both flavor and nutrition. So why not feature a risotto with butternut squash and pinenuts?
Use meat as "flavoring." You can easily reduce the amount of meat on your holiday table by emphasizing plant foods as the main event, and flavoring with meat. You could use an individual portion of beef, pork, chicken, or fish and a pile of vegetables in dishes such as casseroles, stir-fries, and soups for an entire-family meal.
Think about all that you can have. When you're focused on eating plants, there are hundreds of varieties, flavors, colors and textures awaiting you. How many choices do you have when you eat meat? This time of year load up on seasonal veggies, such as apples, pears, oranges, grapefruits, pomegranates, cranberries, beets, Brussels sprouts, winter squash, sweet potatoes, pumpkin, and broccoli and use them in a variety of delicious plant-powered recipes such as Celery Root and Apple Bisque, Roasted Squash Bisque with Macadamias or the Beet and Pomegranate Seed Salad on the next page.
Next>> Beet and Pomegranate Seed Salad
photo by Sharon Palmer