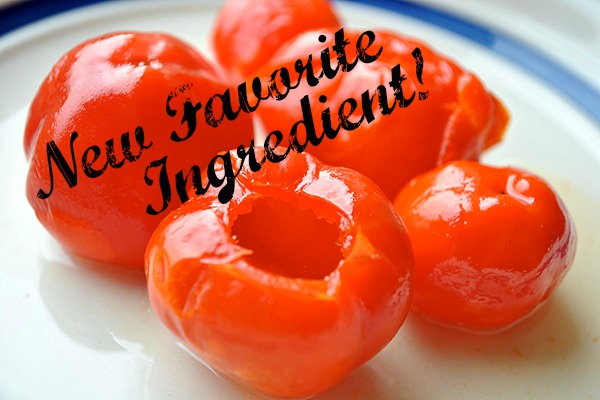 Ever heard of Peppadew peppers? They look like cherry tomatoes — but they are actually sweet piquanté peppers grown in the Limpopo province of South Africa. And they're one of my new favorite ingredients. Here's their interesting backstory.
How Peppadew Peppers Came To Be
Peppadew peppers were discovered relatively recently — in 1993 — when a farmer spied an unknown bush bearing small red fruits in the garden of his South African home. He tried one and knew he had found something special. They were sweet and only slightly spicy, with an interestingly unique flavor. He cultivated more, developed a secret processing recipe, and named them Peppadew — a combination of the words pepper and dew — because they were obviously peppery but also as sweet as the morning dew.
You Should Try Some
I first tried Peppadews in a recipe from Food & Wine Magazine for Sausage-Stuffed Peppadew Peppers. Fed them to my friends, and they now top the list of my requested party bites. In fact, I'm making some this weekend for a friend's oyster gathering. (Mouth watering.)
Here's the tricky part: They can be hard to find. I stopped at a couple of grocery stores this week, scoured the pickle sections, and came up empty. I found them online at several specialty food stores, but they are pricey. (Oh and yes — I had procrastinated and was too late to order them in time for the shindig.)
But then inspiration struck. I checked my Whole Foods' olive bar and voilà! There they were. $10.99 a pound. And I could buy as many or few as I wanted. It was a day for celebrating.
You can also buy them directly from the producer: Peppadew® USA. A case of 12 jars (14 ounces each) is only $39.00 with free shipping. Mild, hot, red or golden, whole or diced. You can even buy them already stuffed with cream cheese. If you like them as much as I do, I think you'll agree that's a good deal.
Recipe: Sausage-Stuffed Peppadew Peppers
Published in Food & Wine Magazine
Note: I omit the cremini mushrooms in my version, adding the anchovies with the sausage, garlic, and thyme.
Ingredients:
Vegetable cooking spray
1 tablespoon extra-virgin olive oil
4 ounces cremini mushrooms, minced
2 anchovy fillets, drained and minced
3 ounces hot Italian sausage, casings removed
2 garlic cloves, finely chopped
1/2 teaspoon thyme leaves, chopped
Kosher salt
Freshly ground pepper
One 14-ounce jar peppadew peppers, drained
Directions:
Preheat the oven to 400°. Lightly grease a 9-by-13-inch baking dish with cooking spray.
In a skillet, heat the oil. Add the mushrooms and anchovies and cook over moderate heat, stirring, until the mushrooms are golden, 5 minutes. Stir in the sausage, garlic, and thyme and cook, breaking up the sausage until no trace of pink remains, 5 minutes. Season with salt and pepper. Let cool slightly.
Stuff each Peppadew with about 1 teaspoon of the filling; arrange in the dish. Bake for about 10 minutes, until the Peppadews are hot. Serve warm or at room temperature.
A Few More Recipes Highlighting Peppadews
Looking for more ways to use my new favorite ingredient? Add them to salads, layer them on sandwiches, and top your pizzas with them. Stuff them with meat, cheese, or herb-seasoned breadcrumbs. And here are more ideas…
Once you've tried Peppadews a few ways, comment below and let me know your favorites. I hope you enjoy them as much as I do.
Image Credit: My Life Runs on Food