Who says that tacos have to be stuffed with meat and cheese? Try these plant-based, healthy taco ideas for Taco Tuesday!
We have 4 healthy taco ideas to share with you this Taco Tuesday, so you can customize this fun, simple meal for weeks to come.
As you might imagine, most taco recipes feature a host of unhealthy ingredients: a fried shell filled with seasoned meat of some sort and topped with cheese, sour cream and maybe some lettuce and guacamole as greenery. Overall, a meal built to make us fat, sick, and nearly dead. Traditional tacos tend to be high in fat, cholesterol and, depending on where it's made, probably filled with preservatives, GMOs and a host of other gross additives.
But these recipes change all of that: we have four healthy taco ideas, all featuring healthy protein-rich bases ranging from beans, walnuts, mushrooms and quinoa. You can mix and match these recipes for a choose-your-own-adventure wholesome and yet totally craveable meal. Try out all the different combinations to find which ones you love the most.
1. Raw Vegan Tacos (made with walnuts)
The video at the top of the page walks you through a recipe for one of the best ways to incorporate raw food into your life. My coworker at my previous job makes an amazing Raw Vegan Taco that she serves with fresh salsa in lettuce cups. It's so good you'll want to eat the whole batch! Check out her cute little video that shows you how it's done; you can find her recipe for Raw Vegan Tacos here.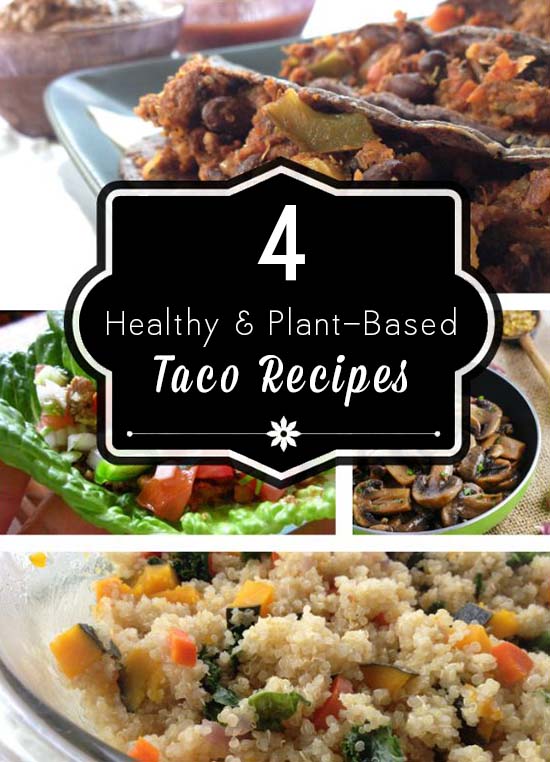 ---
2. Pinto Bean & Soy Taco Filling
My favorite taco idea is this simple mixture of textured soy protein and pinto beans. I think the combination of the two is really the magic here. Textured soy protein (TSP, also known as TVP) is a soy product made from defatted soy. Once the oil has been squeezed out, theses little protein nuggets make for an excellent meat replacement in foods like pasta sauce, veggie burgers and now, the best vegan taco filling.
We recommend seeking out the Bob's Red Mill Textured Soy Protein (TSP), instead of TVP. TVP is trademarked by a huge agricultural conglomerate, and we're dubious of the origins of that soy product. Also, soy protein like this is a great treat, but since it's not a whole food product, we recommend eating it in moderation.
Pinto Bean & Soy Taco Filling
Yield: Approximately 3 cups taco filling
Ingredients
1 cup textured soy protein (TSP)
1 Tablespoon each: dried garlic, oregano, chili powder
1 teaspoon each: cumin, coriander, salt, black pepper
1 teaspoon liquid smoke
1 cup boiling water
2 Tablespoons olive oil
½ cup sliced onion
½ cup chopped green or red bell pepper
¾ cup crushed fire roasted tomatoes
1-2 cups cooked pinto beans
Method
Mix the TSP, spices and liquid smoke in a large bowl.  Mix in 1 cup boiling water.  Stir to mix the spices, and soak for 10 minutes.
In a large saucepan over medium heat, heat the olive oil and add the onions and peppers. Cook until softened, about 10 minutes. Add TSP mixture (it will have absorbed all the water), tomatoes, and beans, and cook on low heat for 10 minutes, until the all liquid is absorbed. Taste, and add more seasonings if you like. (Smoked paprika, chilies, or more fresh herbs are always delicious additions!).
Let cool, and then use for your salads or in tacos with your favorite toppings.
---
3. Spiced Quinoa Pilaf Taco Filling
Who needs beans? Quinoa is loaded with all the plant-based protein you need and has a great texture that lends itself well to tacos, whether in a salad, a bowl or in a tortilla wrap. I've chosen just a bit of chili powder and cumin to flavor this one, but you can swap them out for chipotle powder, coriander, oregano and other seasonings to make it extra taco-licious! Find the recipe for the quinoa pilaf here and add whatever spices you love to give it some zing! Pile into a tortilla with some guac and salsa, and you're good to go.
---
4. Roasted Mushroom Taco Filling
This recipe features so many great flavors that are just perfect for taco filling. Roasting mushrooms brings out some great umami flavors, and the chilies bring a bit of heat. Mushrooms have a cool texture that's often used in meat-based dishes, but the texture is not for everyone. If you don't love mushrooms enough to make them into their own filling, try adding a bit of cooked quinoa or crumbled tofu to the mixture to give it a little more body.
Roasted Mushroom Taco Filling
Serves 8
Ingredients
3 cloves of garlic
1/4 cup of olive oil
4 cups of thickly sliced and stemmed wild mushrooms (any combo of morel, shiitake, chanterelle, oyster, or portobello mushrooms)
2 teaspoons of dried oregano
Sea salt
Freshly ground black pepper
3 roasted, peeled, seeded, and minced serrano chiles, or canned green chilies
Method
Puree garlic with olive oil in a blender and let stand for 10 minutes. Strain and discard the garlic.
Toss mushrooms with the garlic-infused oil, oregano, salt, and pepper and spread onto a cookie sheet or into a cast-iron skillet.
Roast at 425º until mushrooms are browned on the edges, about 8 -10 minutes. Remove from the oven and toss with chiles.
A version of this article originally ran at Vibrant Wellness Journal; republished with permission.