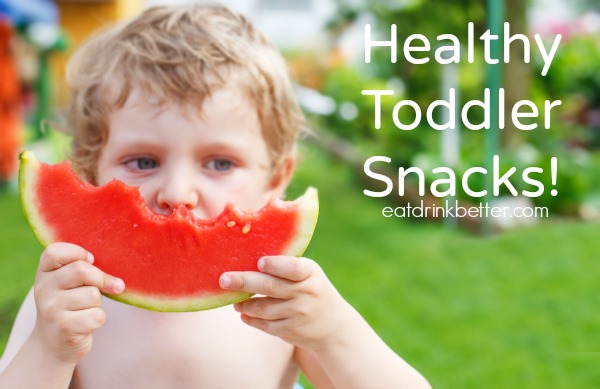 Getting kids to eat healthy food can be hard, especially when they're going through a picky phase. Check out these healthy snacks for toddlers that my son loves!
My baby boy is officially a toddler! Now that he's one year old we have stopped giving him baby formula! There are not words for how happy I am to kick formula to the curb and feed my son real food.
Related Reading: Breast is best, but guilt is the worst.
When you stop formula, you also reduce the number of bottles your kid is drinking. Darrol was still drinking around 8 bottles a day when we started transitioning him to more solids at one year old. He's now drinking four 4-ounce bottles of organic soy milk plus two 4-ounce bottles of water a day. Instead of those additional bottles, we do two snack times a day.
It's taken a lot of experimentation to land on healthy snacks for toddlers that Darrol will eat consistently. Of course, we still branch out and offer different foods, but the list below are sort of our staple foods. On busy days or when we're traveling, these are the healthy toddler snacks we give to our guy,
8 Healthy Snacks for Toddlers
1. Cubed Sweet Potato – Peel and dice a sweet potato, boil until tender, and cool. I like to cook up a couple of sweet potatoes on Sunday afternoon, so I can grab the container of cubes whenever Darrol needs a snack. He loves these! I can also serve them as part of his supper on busy nights, so this is a definite staple in our house!
2. Chopped or Small Fruits – I am kind of over-anxious about choking hazards, so I slice or chop basically everything into pea-sized pieces. Darrol loves tangerine, raspberries, very ripe pear, and – of course – banana.
3. Toast – Toast up a piece of whole grain bread and chop it into cubes, then toss with 2 teaspoons olive oil and a tablespoon of nutritional yeast. He devours this snack!
4. Avocado – You can dice this up into bite-sized pieces or use a small spoon to scoop little bites out of a halved avocado right onto his high chair tray. Growing baby brains need a lot of fat, so avocado is a great snack to up the fat in your toddler's diet.
5. Mashed Potato Cakes – My kid has just started a thing where every piece of broccoli I serve him gets tossed onto the floor. Chop broccoli into these veggie potato cakes, though, and he eats them UP!
6. Blueberry-Chia Muffins – This is another Sunday afternoon recipe. I give these to Darrol for breakfast, but they're also a good snack that we can share in the afternoon.
7. Organic Os – Cheerios are the quintessential healthy snacks for toddlers, but I'm not into supporting General Mills with my shopping dollars. Luckily, lots of companies make organic Os. We get the Whole Foods 365 brand Os. They're much cheaper than those puffs geared specifically at toddlers, and since they're organic you know they're also GMO free.
8. Snack Pouches – This is sort of a last-resort snack, but I try to always have a couple of snack pouches like these from Plum Organics in the diaper bag. We also bring these for road snacks when we're traveling. Sure, they not the ideal baby snack, but at least they're organic and have some veggies. The pouch also means that I can just open this up and hand it to Darrol, and he can feed himself while I have him in the stroller or while I feed myself if we're on the road.
I'd love to hear from the other moms and dads out there! What healthy snacks for toddlers do you try to keep handy? I'm always on the lookout for more snack ideas for Darrol!
Image Credit: Toddler Eating Fruit photo via Shutterstock