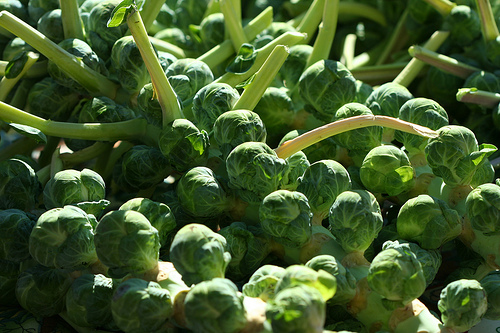 Our friends at Sustainablog reminded us not too long ago that it's time to start planning that cool weather garden, so I'm making a list of what seeds I want to order and start as my container garden transitions out of summer. I thought it would be fun to talk garden planning and see what you guys are planting, too! If you're working on a fall/winter garden, let us know what's on the agenda in the poll below!
Picking a Seed Catalog
I've never ordered from a seed catalog before, and I'm really loving Rachel's guide to her favorite seed catalogs as I sort out where to order from. It looks like the catalog you go with really depends on your priorities in the garden and what you're planning to order. She lists some more generic catalogs and some that carry more exotic seeds.
Since both Rachel and Jennifer (from Sustainablog) recommended it, I'm planning to order from Territorial Seed.
What to Plant
I'm not sure if all seed catalogs are this way, but Territorial Seed has a handy resource for specifically finding fall and winter seeds. That made sorting out what to plant a whole lot easier! I don't want to overdo it, so I'm going to start small with a few things that our CSA doesn't typically provide in the cooler months:
OK, so we actually do get broccoli, bok choy, and kale pretty often, but I love cruciferous vegetables, so I want to have extra. We tear through them around here!
I think I'm going to do the broccoli, beans, and kale in large pots and see about planting the Brussels sprouts and bok choy in a back bed, where we used to keep the compost bin before we replaced it with a rotating compost bin that was also less ugly.
So spill it, guys! What are you planting for the fall? Sound off in the poll:
[polldaddy poll=5278229]
Image Credit: Creative Commons photo by John Morgan