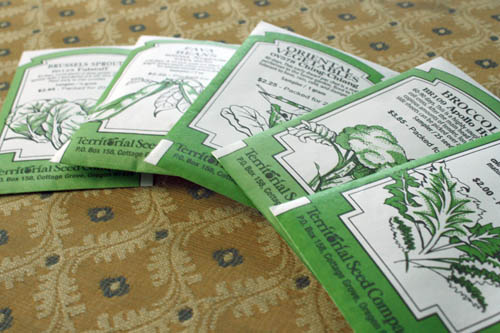 This time around, instead of buying plants, I decided to start my fall garden from seed!
Unlike with my spring/summer garden (all in containers), I'm planting one raised bed and one regular garden bed along with a few containers, because my husband just decided that he'd like to grow some more food out back! I'll share more with you on building the raised bed and on getting our other back bed ready as soon as we're able to start digging.
The raised bed gets full sun, and that back bed is in partial shade, so that's going to determine what we plant where. After looking through my seeds, almost all of them are sun lovers. In fact, the bok choy is the only one that likes any sort of shade, so I'm going to plant it the back bed on its own. Luckily, we love bok choy, so we'll just plant rows and rows of it! I think the kale and broccoli are going into the raised bed, and I'm going to use some really big pots for the fava beans and the Brussels sprouts.
Since I've never grown from seed before, I needed to figure out how to grow everything I planted. In case any of you picked up seeds similar to mine, I thought I'd share what I learned!
Soil Temperature
This is different from outdoor temperature. From what I'm reading, soil temperature in summer is a bit cooler than the air, and in winter it's a bit warmer. Since I don't have a soil thermometer, I'm going to just make a crazy estimate and assume that the soil temperature right now is around 5 degrees cooler than the air.
If anyone is more knowledgable about soil temperature vs. air temperature, I'd really appreciate your insight in the comments!
Growing Bok Choy From Seed
It looks like bok choy does well in full sun to partial shade, which is why I'm going to stick this one in the back bed.
You can grow from seed or from seedling (1″ apart), so I think I'm going to plant seeds on this one, but the max soil temp seems to be around 80 degrees, so I probably need to wait until the summer heat passes a bit before planting.We're still seeing high in the mid- to upper 90s around here right now, and I don't want to bake these babies!
My seed packet says to "sow in early spring," which is a little bit confusing, since the Territorial site listed these greens when I was searching for fall veggies. Since it's way past spring, I'm going to just sow these seeds and cross my fingers. Once the plants start popping up, you're supposed to thin them to 6-12″ apart.
Growing Fava Beans from Seed
My fava bean packet says not to sow until September and that the plants can be as close as 2-3″ apart. They don't recommend starting these inside and transplanting, so I'll be sowing these when the time comes, too. It sounds like maybe I can get away with doing a couple of plants in an 18″ pot! Do you guys think this would be too crowded for the roots?
The soil temperature for these fava beans is 60-85 degrees, so it's too hot to plant right now, but in a month or so, it should be OK. Like the seed packet recommends, September sounds about right to me.
Growing Kale from Seed
Kale also requires full sun, and I might start these as seedlings. They take 6 weeks to germinate, and it sounds like that will time out perfectly with when I can plant most of the other seeds. Since the seedlings need pretty cool soil temperatures to germinate – 55-75 degrees – it'll be best to keep my little seedlings indoors, then plant them 12-24″ apart when they're ready to go into the raised bed.
Growing Broccoli from Seed
Broccoli also likes full sun! Since it also needs pretty cool soil temperatures to germinate, I'm going to sow these indoors and transplant them in 6 weeks, when they're more ready to face the outside. Once it's in the ground, it's going to need 12-24″ of space between plants to thrive.
Growing Brussels Sprouts from Seed
Like the broccoli and the kale, Brussels sprouts love sun and cooler soil (55-75 degrees), so I'll be starting these indoors, too. I'm not 100% sure where all of these baby seedlings are going to go, but I'll just have to get resourceful! You can transplant Brussels sprouts after 4-6 weeks, so I'll start them along with the other cruciferous veggies that need to germinate indoors.
The seed packet also recommends transplanting the smaller seedlings, because these will establish the strongest roots. Interesting!
Brussels sprouts need 24″ of space, so Im saving 2-3 of my biggest pots for them.
Are you guys growing any of the same plants as I am, or is your fall garden looking totally different? Share away in the comments, or you can vote in the poll on this post!