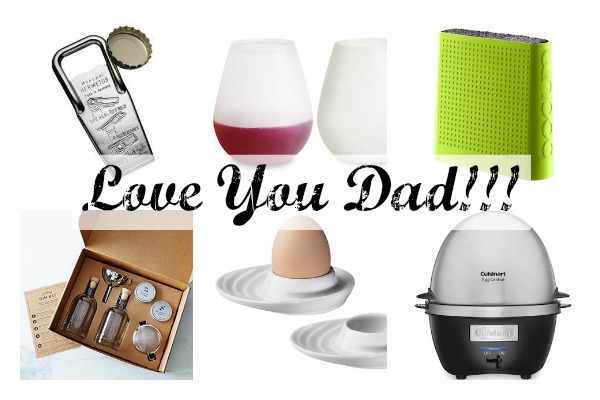 It's close to June 21st — that day we take a moment to celebrate the dads in our lives. If you're looking for the best Father's Day gifts for your foodie dad (or stepdad, granddad, or other father figure), you've come to the right place! We've rounded up some uniquely awesome gifts for dads of all kinds.
The Best Father's Day Gifts for the Dad with the Best Knives
Did you know those wooden knife blocks many of us have on our countertops are notorious spots for dirt, mold, and bacteria to lurk? Yuck! They can also dull your dad's knives. He deserves better, dude. Here are a couple of ways you can help him keep those kitchen knives in good condition:
1. Bodum Bistro Universal Knife Block
This is a groovy alternative to the typical wooden knife block. It stores most knives in a forest of fine plastic sticks which hold them tight. The sticks won't dull your cutlery and are removable and dishwasher safe. Silicon feet keep the block secure on the countertop. Plus it comes in a variety of colors, including the Kermit the Frog green color pictured here. (Mine!)
List price is $67.00, but online prices  hover around $40 to $45, depending on the color you pick for pops.
2. Norpro Aluminum Magnetic Knife Bar
If you want to help dad keep his counters clear, give him a way to safely and cleanly store his knives on a magnetic knife bar that hangs on the wall. You can find them in a variety of materials and lengths. This aluminum option by Norpro is a lengthy 18″. Dad can also use it in his office or garage to hold other metal stuff he wants to keep close at hand and organized, so why not buy a few?
You can buy them online for about $17.50 a pop.
The Best Father's Day Gifts for Your Grilling Guy
Dad likes to grill? We're smack dab at the beginning of grilling season, so I'm sure he'll appreciate one of these fabulous treasures he never knew he needed:
3. GrillStone Grill Cleaner Starter Kit
I just learned that old metal grill brushes pose a serious health risk. Those nasty metal spikes can become dislodged and end up in your food. Folks have ended up having emergency surgery for just this reason. Yikes! Why not toss your dad's old grill brush and gift him a stone grill cleaner? Made from recycled materials and 100% chemical free, dad can use the stone on a hot or cold grill to remove burnt-on food and grease. This starter kit from GrillStone comes with a handle and two stones. (And it's making its way to my grilling guy this year, so I hope he doesn't read this post!)
The set is available online for about 17 bucks.
4. Amazen Pellet Tube Smoker
This is cool! Dad will love it if he likes the convenience of cooking on a gas grill but wants to enhance his meats and vegetables with the fabulous flavor of smoke. All he has to do is put some wood pellets in this lightweight, portable smoking tube and he can have the best of both worlds. He can use it for hot or cold smoking on just about any smoker or grill. And it comes with Pitmasters Choice Pellets. This model is much smaller than other smoking boxes on the market, making it perfect even for small grills.
The 12″ model can be found online for about $35.
The Best Father's Day Gifts for your Boozy Bossman
Making your own booze used to be scary. You had to search out the right equipment and ingredients, which could only be found at beer- and wine-making specialty stores. Today, you can just buy dad an all-in-one kit!
5. Mr. Beer Premium Gold Edition Home Brew Kit
If your man has always wanted to make beer but didn't want to make a huge investment of time or money, he'll enjoy this home brewing kit. It comes with a 2 gallon, reusable, shatter-resistant keg that's BPA-free. It includes 2 Mr. Beer refills which are organic and GMO-free and can be used to make 4 gallons of homemade hooch that dad can funnel into the 11 plastic bottles included.
List price for the kit is $64.99, but Amazon sells them for just under $60. Cheers!
6. W&P Design Homemade Gin Kit
Summertime is the perfect time for a light, limey gin and tonic. Imagine if dad had his own homemade small-batch gin to add to the awesomeness! This gin kit comes with 2 glass bottles, a tin of juniper berries and a secret botanical blend of botanicals, spices, and aromatics to add the perfect flavor. Just add vodka! A stainless steel strainer and funnel will help dad as he becomes his own gin-master. Hopefully you'll get to reap the benefits of your gift.
List price: $49.95, but available online for $39.99.
More Treats for your Boozy Bossman
Why stop at one gift for the father who enjoys a good cocktail now and then? Think about how your dad will realize you're his favorite when you gift him one of these goodies:
7. Hermetus Bottle Opener and Resealer
Who knew this even existed? I didn't, but it looks awfully excellent. And at only $9, it's a deal. This little gadget, made in Germany will remove bottle caps and — get this — put them back on. Sealed tight! Leakproof! It works on U.S. standard bottle caps and the larger size used for craft and European beer bottles. It also works for sparkling wine bottles that come with bottlecaps instead of corks. I know what you're thinking: Who ends up with leftover beer or sparkling wine? I'm not sure, but it doesn't matter. Dad still needs this handsome little tool.
Buy it for him at Kaufmann Mercantile.
8. WineWalker Silicone Wine Glasses
I saw these at a liquor store and fell in love. These wine glasses (also suitable for Manhattans) are unbreakable, making them perfect for poolside. They're squishy — made of BPA-free, food-grade silicone. You can tuck them in your back pocket for heaven's sake! And they go back to their normal shape when freed. They're dishwasher-safe, and — best of all — you can freeze them to keep your wine (or favorite cocktail) chilly. If dad likes his booze to go, give him a set or two and see him smile big, as — once again — you're assured to be his favorite child.
List price is $29.99 for a set of 2, but you can find them on Amazon for about $15.
The Best Father's Day Gifts for your Egg-Lovin' Papa
If you know me, you know I love me some eggs. I have a local source for giant, brown, delicious, pastured eggs. I make noises when I eat my perfectly-cooked soft-boiled delight in the morning. (It's a bit embarrassing.) So I take my egg accessories very seriously. If your dad is an egg geek like me, look at these gift ideas:
9. Kuchenprofi Porcelain Egg Cups
It's incredible how much I love these egg cups. And here's why: If an egg cup and a spoon rest had a baby, this is what they'd look like. The egg cup does its job, keeping your soft-boiled egg upright while you enjoy that creamy yolk. And the oval base is large enough to rest your spoon and hold a little salt and pepper for your dreamy breakfast. They stack. They're dishwasher, microwave, oven, and freezer safe. And they're a beautiful white porcelain.
Buy a set of 2 online for less than $15.
10. Cuisinart Egg Central Egg Cooker
How many times have your come across tips for cooking the "perfect" hard-boiled or soft-boiled egg? When it comes to using a stove, a pot, and water, it's tough to know exactly how to cook eggs to get the results just right. This little electric cooker takes the guesswork out of making perfect eggs. You can cook up to 10 at a time to hard, medium, or soft levels. Just put eggs in the cooker and add the right amount of water — which you know is right because the little measuring cup tells you how much to add. Turn it on, listen for the beep, and throw those babies in some ice water to stop the cooking. Voila! If dad loves his eggs cooked "just so," this gift is a given.
And it's about 40 bucks at Amazon.
The Best Father's Day Gifts for the Guy with the Green Thumb
I'm trying to grow my own food — which has been tough given all the rain we've had in Texas this spring. If your dad is also trying to exercise his green thumb, here are a couple of gifts I know he'll love:
11. Back to the Roots Water Garden
The guys at Back to the Roots have created this small indoor aquaponics system, just right for your dad's desk or kitchen counter. Like larger-scale aquaponics setups, this self-cleaning fish tank grows food! One beta eats the food and poops. That poop feeds the plants. And the plants keep the water clean. It's a perfect spot to grow herbs for the dinner dad will make you as a way of saying "thanks."
You can buy one online for dad for $60.
12. Gardman 4-Tier Mini Greenhouse
When I told my husband I wanted to start an herb farm, he said he had always wanted a greenhouse. Now we have one! He bought me this super little portable greenhouse for starting seeds early or overwintering container plants. The frame is made of tubular steel and assembles easily. Wire shelves rest on top of the frame, so you can leave some out if you've got a tall plant to shelter. And it comes with a clear plastic cover with a roll-up zippered door to keep your plants warm while they're also easily accessible. At 63″ tall, 27″ wide, and 18″ deep, it's perfect for gardeners with small spaces.
List price is $60, but you can buy one online for less than $40.
Which gifts will you give the dad in your life?
Image Credits: Amazon, Norpro, and Kaufmann Mercantile