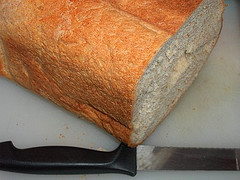 Have you ever woken up to the smell of freshly baked cinnamon raisin bread? Or come down in the middle of the afternoon from working in your home office to the scent of a loaf of country white bread wafting through the first floor? I have. Frequently.
No, I don't live above a bakery. I have a bread machine.
It makes delicious, fresh bread for much less than I'd pay for it at the store. I've never done a cost break down, but I'm going to guess that for my basic white bread, it costs about $1 a loaf. And, the average loaf takes me less than five minutes to throw together, plus the three hours or so that it takes the machine to do its magic.
My bread machine also has a dough cycle. That means that I can still bake bread in my oven if I want, but the bread machine will do all the mixing and kneading for me. It comes in handy when I'm making pizza dough.
"Sure," you're thinking, "making bread doesn't cost a lot in a bread machine, but what about the machine itself? Won't it cost a fortune?"
Well, yes, some bread machines cost a lot of money. But they don't have to. I bought mine several years ago for $30 at an outlet store. It was refurbished. It's worked great for years. It doesn't have some of the bells and whistles on it that some newer, expensive models have, but it still bakes a mean loaf of Sally Lunn. There are other ways you can get a bread machine without spending hundreds of dollars.
Check out local thrift stores. Last time I was at my local Good Will store I saw several bead machines in the appliance section.
Put a request out on Freecycle. Freecycle is a website where people can list items they don't want anymore and people who live in their area can e-mail them and request the item. You can also ask for items they would like on Freecycle. If someone has the item sitting and collecting dust, they just may give it to you.
Send out an e-mail request to friends and family. You never know who may have gotten a bread machine as a wedding or other gift and still has it sitting unopened in the box.
Check Craigslist or eBay for ones that are for sale.
Even if you have to pay a little bit for your bread machine, it will eventually pay for itself in savings. Plus, you can control the ingredients that you put in the bread. There will be no preservatives, high fructose corn syrup, or partially hydrogenated oils in your homemade bread. It's easy to make your bread all natural – all organic if that's what you prefer.
My go-to cookbook for my bread machine is The Bread Machine Cookbook (catchy title, huh?) by Donna Rathmell German. But you don't even need to invest money in a cookbook to find great bread machine recipes. Many recipe websites like allrecipes.com have sections devoted to bread machines.
Someday, I'd like to try my hand at making bread the old fashioned way – completely by hand. But right now, my life doesn't allow me the time to do that. But my bread machine allows me to have fresh, delicious, healthy, inexpensive bread every day, and I don't have to run out to the grocery store to get it.