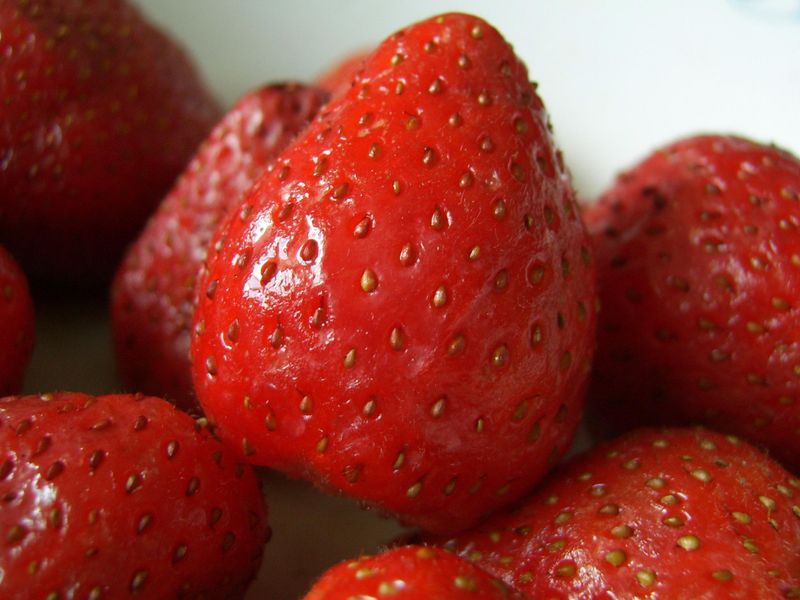 There are two things I look forward to, more than anything, with the coming of summer: caprese salad with creamy mozzarella, ripe tomatoes, and fresh basil from my herb garden, and strawberry shortcake.  When I was younger, I so anticipated the strawberries, absolutely my most favorite fruit in the world, which we only got in the summer.  My mom would make sweetened biscuits, top them with strawberries and Cool Whip, and my brothers and I would devour this sweet treat.  This dessert always reminds me of my childhood.
Now, with global food shipping, you can strawberries any time of the year, if you're willing to pay for them.  But those winter strawberries, with their white, tasteless core and Frankenstein-like size, are nothing compared to the sweet, juicy, red berries you can get in season.  And, rumor has it, they're starting to pop up in St Louis, the precious few pints available after the heavy spring rains getting snatched up within minutes of the opening of the markets.  My schedule hasn't allowed me to fight the crowds for these jewels, but tomorrow I'll be heading to my local Wednesday market to procure the first fresh berries of the season.  See what I'll do with them, after the jump.
While I still love making the Bisquik-biscuit, Cool-Whipped strawberry shortcake of my youth, dressing up the beautiful berries with from-scratch substitutes is simple and well worth your time.  I use the Joy of Baking shortcake recipe, which you can find here, although I don't roll out the biscuits–for my purposes, drop biscuits work just fine and make my life easier.
As for the whipped cream, making your own is a snap if you have a hand mixer or a food processor.  I pour a pint of chilled heavy whipping cream into a chilled bowl or your food processor.  Add a few tablespoons of sugar (to taste) and the scrapings from one vanilla bean (trust me, real vanilla beans are worth the cost–you can find reasonable ones here).  Blend, blend, blend until it turns into a thick, stand-alone cream. Hint: take that scraped-out vanilla bean, throw it in a jar full of sugar, and shake it up every now and then.  Makes delicious vanilla sugar.
Top a shortcake with sliced berries and a dollop of this luscious vanilla whipped cream.  Taste.  Roll eyes back in head.  Repeat.  Lick bowl.
Image Credit: Wikimedia Commons