…[the persimmon's] bitter power of astringency is surprising, and seems capable of suspending for a time all the faculties of the lips, and binds up the risible muscles of the sufferer to the same extent that it excites those of a spectator.

– Charles Augustus Murray
Most Americans aren't familiar with this delicious but misunderstood tree fruit. Not surprising, since it's native to China and more prominent in the Far East, Middle East and Western Europe.
You'll find persimmons in the market right now since they are usually available from late fall through the winter. There are over 500 varieties planted in the United States (originally introduced to California in the mid 1800's) – each with a slightly different color, texture, shape and astringency. Persimmons can be classified into two general categories: those that bear astringent fruit until they are soft ripe and those that bear nonastringent fruits
That being said, I'm going to concentrate on the two most predominate varieties: The  astringent Hachiya (which makes up 90% of the U.S. plantings) and the nonastringent Fuyu (my favorite and gaining popularity).
Hachiya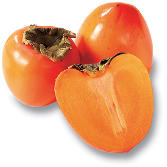 Large, oblong-conical fruit with a  glossy, deep orange skin and dark yellow flash. (See the picture above and at the left.) Extremely astringent when non-ripe but are very sweet and rich when fully ripe. Good for drying. Great for pies, steamed puddings, cakes, fillings and ices.
Fuyu

Medium-large oblate fruit, faintly four-sided with a deep orange skin and light orange, sweet and mild flesh. Fuyus can be eaten either unripe and crisp-hard (such as sliced in salads) or fully ripen when sweetly luscious and somewhat messy.
My feeling about persimmons, as with a majority of sustainable grown produce, is to not cover up or obscure their unusual texture and delicate flavor. I know I said they is more to do with persimmons than just pudding but the following recipe is amazing. If steamed pudding doesn't float your boat, my next post will give you a Fuyu Persimmon and Duck Salad with Hazelnut-Sherry Vinaigrette. Perfect for that Christmas dinner.
Marion Cunningham's Steamed Persimmon Pudding
According to Marion, "There are persimmon puddings and there are persimmon puddings. This ends the search – it is the best. The color is dark, the texture moist, and the flavor full and spicy"
1 cup Hachiya persimmon purée (about 3 persimmons with skin removed)
2 teaspoons baking soda
8 tablespoons (1 stick) butter
1½ cups granulated sugar
2 whole eggs
1 tablespoon lemon juice
2 tablespoons dark rum
1 cup AP Flour
1 teaspoon ground cinnamon
½ teaspoon salt
1 cup walnuts roughly chopped, optional
1 cup raisins
Preheat the oven to 350F.
In a large bowl, place the persimmon purée and stir in the baking soda. Set aside.
In a bowl of an electric mixer fitted with a paddle, cream the butter and sugar. Add the eggs one by one. Slowly add the lemon juice, rum, flour cinnamon and salt until well blended. Add the persimmon mixture. Fold in the walnuts and raisins.
Pour the batter into a buttered 2-quart mold (a large coffee can works well) and cover. Place the mold into a large roasting pan and fill the roasting pan with enough water to come halfway up the sides of the mold. Place the roasting pan into the oven and steam for 2 hours. Make sure a toothpick inserted into the middle of the pudding comes out clean. Let the pudding rest for 10 minutes before unmolding.