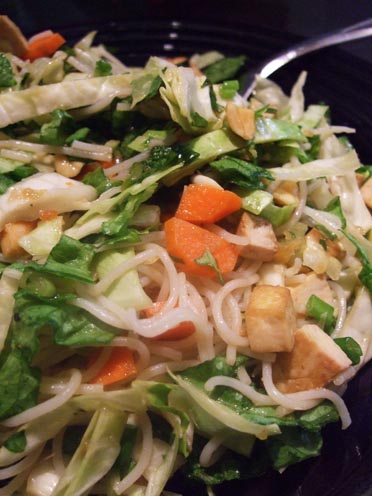 Well, after my last post on eco-friendly junk food, I feel like I need to redeem myself a bit with another healthy salad. (See, my Kale, Quinoa and Avocado Salad recipe for the first installment of this series.) This recipe came about when I had a craving for home made spring rolls, but couldn't find any sheets of rice paper in the five block vicinity of my apartment that I was willing to walk.
I changed up the ingredients a little bit, and Spring Roll Salad was born. Depending on what you're in the mood for, you can make this more of a green salad and go heavy on the lettuce and cabbage, or more of a pasta salad, heavy on the vermicelli.
I'll simply list my ingredients and let your taste guide the quantity.
Green cabbage
Romaine lettuce
Mint leaves
Basil leaves
Carrot
Green onion
Peanuts
Sesame seeds
Mung bean sprouts (optional)
Vermicelli noodles
Seasoned sauteed tofu (see directions)
Start with your noodles. Directions may vary according to the type of vermicelli you buy, but generally the package will tell you to soak it, and boil for just a few minutes. While you're working on the noodles, get started on the tofu.
Chop about 1/3 block tofu into small pieces. In a small frying pan, heat up some soy sauce, garlic salt, a tsp. of canola oil, and if you have it, just the tiniest drop of sesame oil. (Flavor goes along way with this stuff!) Sautee the tofu pieces , continuing to flip until they get browned on all sides.
Once the tofu and the noodles are cooked, set them aside in a bowl in your fridge to cool. In the mean time, chop up all the peanuts and veggies (except the sprouts which can stay whole) and combine in a large bowl. Toss in the noodles and tofu when they've cooled.
For dressing I went store-bought again. I found a super yummy ginger dressing from a company called Makoto (although there's nothing particularly eco-friendly about it), which I mixed with soy sauce and rice wine vinegar.
If you're sick of soy ginger (which I probably never could be) you could also try making a heavier peanut sauce or a hoisin sauce.
This also makes a great, filling on-the-go salad that you can take to work, to picnics, wherever.