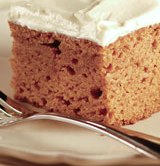 Even those who cannot commit to an extravagant chocolate creation or a rich fruit dessert will find solace in the satisfying sweetness and texture of this simple and moist dessert.
This cake has the texture of a quick bread and the autumn flavors of pumpkin and "pumpkin pie" spices. Pumpkin is one of those tastes that you either love or hate. This cake is designed so there is no doubt that you are eating pumpkin.
½ cup dried black currants
¼ cup water, boiling
1 tablespoon hazelnut liquor or brandy
¼ cup hazelnuts, toasted, peeled and roughly crushed
1 cup cake flour (substitute all-purpose flour)
¼ teaspoon kosher salt
1 teaspoon baking soda
¼ teaspoon ground cinnamon
⅛ teaspoon nutmeg, freshly grated
¼ teaspoon ginger, peeled and freshly grated
⅛ teaspoon ground cloves
⅛ teaspoon ground cardamom
⅛ teaspoon ground white pepper
2 eggs
½ cup honey
¾ cup vegetable oil
1 cup pumpkin purée
Preheat oven to 325ºF.
Place the currants in a bowl and pour boiling water and liquor or brandy over them. Set aside and allow them to plump 15 to 20 minutes. Drain any excess liquid and reserve.
Spray a 9-inch cake pan (either round or square) with nonstick spray. In a medium-sized bowl, mix together the flour, salt, baking soda, cinnamon, nutmeg, ginger, cloves, cardamom and pepper. In a bowl of an electric mixer, beat together the eggs and honey until light and fluffy. With the mixer running, slowly beat in the oil. Beat in the dry ingredients, constantly scraping down the sides of the bowl. Add the pumpkin purée and beat until smooth. Stir in the nuts and currants.
Pour the batter into the prepared pan and bake until golden brown and a skewer inserted in the center comes out clean, about 35-40 minutes. Allow the cake to cool slightly, then unmold the cake, place on a cake rack and allow to cool completely.
To Serve: Cut the cake into 12 wedges (if using a round pan) or 3-inch squares (if using a square pan). Serve with vanilla ice cream and any reserved soaking liquid.
Advance Preparation: The cake may be made 1 to 2 days ahead and either served at room temperature or warmed in a 250ºF oven.
Substitutions and Options: We have used hazelnuts and currants in the recipe to give this cake a northwestern flair. You can either omit both or substitute toasted walnuts, pine nuts or almonds for the hazelnuts and golden raisins for the currants. If you choose not to roast your own sugar pumpkins, canned pumpkin purée will work fine but it lacks "true" pumpkin flavor. Get thee to the patch.
If you need additional sweetness, frost the cake. The Vineyard Kitchen: Menus Inspired by the Seasons by Maria Helm Sinskey has an amazing recipe for maple-flavored cream cheese frosting.
Wine Notes: Choose a late-harvest Gewürztraminer with tastes of raisin, spice and intense honey, and a little acidity to match with the pumpkin and to balance the cake's sweetness.
Recommended: Anam Cara Cellars, Late Harvest Gewürztraminer, Willamette Valley, Oregon or Winter's Hill Vineyard, Golden Nectar, Willamette Valley, Oregon
Makes one 10-inch cake, 12 servings