After spending my first autumn surround by the amazing micro-climates of the Rogue Valley of southern Oregon, I was inspired to give the classic potato gnocchi recipe my own twist by adding roasted squash along with the roasted potatoes. Just like other dumplings, the key to making gnocchi is to make sure that the dough isn't too sticky and that you don't over mix or over knead the dough.
For the Squash Gnocchi
1 small butternut squash (approximately 1 to 2 pounds)
kosher salt and white pepper, to taste
1 pound baking potatoes (approximately 2 large potatoes)
1 egg yolk
1 whole egg
1½-2 cups all-purpose flour
1 teaspoon kosher salt
⅛ teaspoon ground nutmeg
⅛ teaspoon ground cinnamon
¼ teaspoon ground allspice
½ teaspoon ground white pepper
For the Brown Butter Sauce
4 tablespoons butter
juice and zest of one lemon
kosher salt and white pepper, to taste
To Prepare the Squash Gnocchi:
Preheat oven to 375ºF. Cut squash in half lengthwise and remove the stem and the seeds. Season the cut-side of the squash with salt and pepper. Place squash, cut-side down on a baking sheet with the whole potatoes, and roast them until soft, about 45 minutes. Allow to cool slightly.
Scrape squash flesh from their skins. Purée squash flesh in a food processor until smooth. Retain ¾ cup of purée. (Extra purée can be frozen for another use.) Scrape potato flesh from their skins and pass flesh through a food mill/ricer.
In a large bowl, combine squash purée, potato purée, egg yolk and whole egg. In a separate bowl, combine 1½ cups of flour, salt, nutmeg, cinnamon, allspice and white pepper. Slowly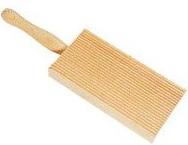 add dry ingredients to egg mixture. Knead until the mixture is just combined and smooth, but not sticky. You may or may not need the remaining ½ cup of flour. DO NOT OVER MIX. Allow dough to rest 10-15 minutes.
Divide the dough in four portions. Roll dough into thin strips and cut into ¼-inch to ½-inch pieces.
NOTE: At my former restaurant, we used a special "gnocchi board" to make the traditional grooves but at home, the back of fork will work fine.
To Prepare the Brown Butter Sauce: In a large sauté pan over medium heat, melt the butter. Continue cooking the butter until it begins to foam and turn slightly golden brown. Remove from the heat, add the lemon juice, lemon zest, salt and pepper. The butter will continue to cook and will develop a nutty smell and taste.
To Serve: Bring a large pot of salted water to a boil. Place the gnocchi in the boiling water and cook until the gnocchi begin to float to the surface. Drain well and add to pan with the brown butter sauce. Serve with toasted pumpkin seeds.
Advance Preparation: The gnocchi dough will keep in the refrigerator for 1 to 2 days or may be frozen for up to 3 weeks.
Substitutions and Options: Check out my post on Winter Squash for a complete list of squash substitutes.
Sugar pumpkin or sweet potatoes will work in place of the squash but make sure the finished purée is as dry as possible. Additionally, you may omit use all potato in place of the squash and use more potato to make simple potato gnocchi. You may add fresh chopped herbs (sage is our favorite, but almost any herb will work), to the brown butter sauce once the butter has browned. Sage is my favorite, but almost any herb will work.
You will need some acid component in the butter sauce. White wine vinegar or other citrus juice will work in place of the lemon juice. Cooked cabbage (bok choy or savoy cabbage) makes a good addition to the gnocchi if you wish to make a complete meal. A broth made from the leftover squash purée can be used as a lighter substitute for the brown butter sauce.
Wine Notes: The richness of the butter sauce and the earthiness and caramelized flavors of the roasted squash need a crisp, dry Alsatian-style Riesling.
Recommended: Paraiso Springs, Santa Lucia Highlands, Riesling Monterey, California is a food-friendly Alsatian style riesling, on the drier side, backed by an intriguing minerality and refreshing acidity. Or Trefethen Family Vineyards, Estate Dry Riesling, Napa Valley, California has bright, lively lemon-lime and flavors are given backed by a refreshing minerality that continues through the crisp lingering finish.
Makes 4 entrée servings
Photos by lukekb.