Get the raw spring rolls recipe from Raw. Vegan. Not Gross by Laura Miller!
There is a bit of a misconception out there in the world that vegan food is boring and bland. And raw food must be even worse, right? Wrong! Those beliefs couldn't be further from the truth! We vegans know a thing or two about flavor, and raw vegans seem to be especially adept at making delicious meals.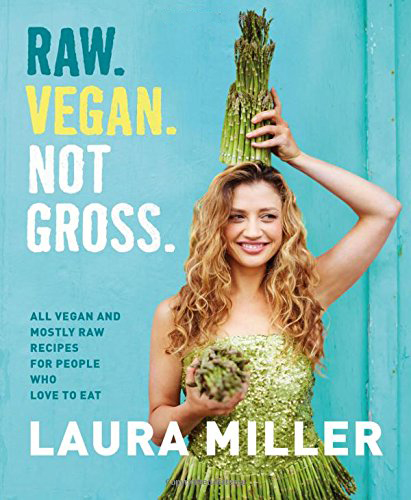 In her new book Raw. Vegan. Not Gross, Laura Miller dispels the myths about vegan food being bland with her recipes for delicious vegan dishes, many of which are raw. People also tend to think raw food is too time consuming to prepare, and that raw foodists usually eat meals that are full of weird, expensive ingredients. Laura also banishes those beliefs, as these recipes are easy-to-make and budget friendly. Most of the ingredients can be found in the produce department in just about any grocery store.
Related: Coastal Carrot Fettucine
If you're new to raw "cooking", that's okay, because Laura starts the book with some info on how to stock your pantry and what equipment to have on hand in the kitchen. Chapters include Breakfasts, To Go, Salads, Weeknight Dinners, Party Food, Die Alone (which is actually snacks), and Sweets. You'll find recipes for just about everything from healthy foods like Pesto Pasta, Orange-Watercress Salad, and Kale Chips to treats like Chocolate Cream Pie, Donuts, and Brownie Popsicles. A majority of the recipes are raw, but there are some cooked dishes in the mix, too.
Related: Make Fruit Milk
Laura's fun, quirky personality shines through in the pages of Raw. Vegan. Not Gross. With her as your guide, you'll learn that healthy eating can be pleasurable, rather than a chore. Raw. Vegan. Not Gross. is a gorgeous hardcover book full of mouthwatering photos by David Loftus, and it's a welcome addition to my cookbook library. If you want to add more easy raw dishes into your diet, are trying to eat more healthfully, or just love good food. This is the book for you!
SPRING ROLLS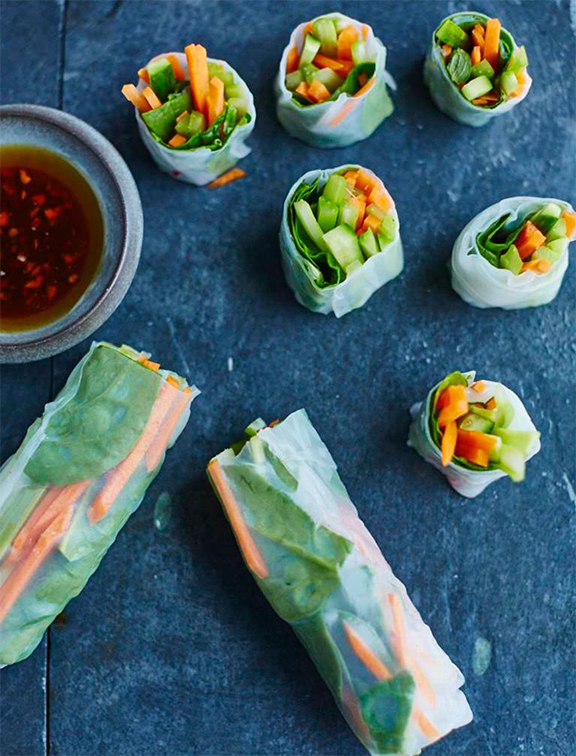 cooked – 8 servings • active time: 30 minutes
Once, I had been trying to prep these raw spring rolls, but I just straight up ran out of time and realized I wouldn't be able to roll them all. I marched all the ingredients out on cutting boards and laid them down on the dining table and informed my friends that they were responsible for making their own. At first I was embarrassed by my failure to get food on the table, but then I realized that everyone actually loved being able to build their own, because they could customize them and make them exactly how they liked them, and it was a great conversation starter for the folks who didn't know each other that well yet. From now on, I'm only doing BYOSR (build your own spring roll).
There's really no limit to what else you can put in here. I love adding mango and cilantro. Make them your own!
For the spring rolls:
8 rice paper spring roll wrappers
1 cup thinly sliced carrots
1 cup thinly sliced cucumber
1/2 cup thinly sliced yellow bell pepper
1 large bunch fresh basil
1 small bunch fresh mint
For the dipping sauce:
1/2 cup tamari
2 tablespoons apple cider vinegar
2 tablespoons raw honey
1 tablespoon sesame oil
1 teaspoon minced fresh ginger
1 clove garlic, minced
1 teaspoon red pepper flakes
Prepration
Fill a shallow dish with room-temperature water (just make sure it's a little wider than your rice paper wrappers).
Place one wrap in the water for about 1 minute, until it becomes soft and pliable.
Transfer the wrap to a cutting board and place a small handful of the vegetables and herbs in the center.
Fold the top half of the wrap over the fillings, then fold in both sides, and last, fold the bottom up to seal. Repeat for each spring roll.
Make the dipping sauce: Put all the ingredients in a blender and blend until smooth. Transfer to a small bowl and serve alongside the spring rolls.
Recipe reprinted with permission from Raw. Vegan. Not Gross. by Laura Miller. Photography by David Loftus. Review republished with permission from Chic Vegan.

Dianne Wenz is the Editor-In-Chief for Chic Vegan. She is a Holistic Health Counselor, Vegan Lifestyle Coach and Plant-Based Nutrition Specialist. Dianne coaches people from across the country to help them improve their health and wellbeing, and she helps people make the dietary and lifestyle changes needed to go vegan. Dianne lives in New Jersey, where she runs the busy MeetUp group Montclair Vegans. Through the group she hosts monthly potlucks, runs charity bake sales and organizers guest speaker events. An avid cook and baker, Dianne also teaches cooking classes to local clients. In addition to food and nutrition, Dianne loves crafts and cats. To learn more, visit Dianne's website and blog at VeggieGirl.com.