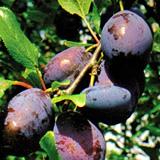 I've been a HUGE fan of the freestone Italian Prune Plum, sometimes called "Stanley" plums, since one of the farmers from my previous restaurants invited me to have a look around his orchard. Sweet and tangy at the same time without being cloying or astringent. They are at their peak right now, at least here in the Pacific Northwest.
A Claflouti is one of my favorite country French desserts. This crustless-custard based fruit flan originated in the Limousin region of central France.  The classic Clafloutis is made with cherries but almost any fruit can be used.
My recipe, close to the classic, is simplistic and easy to make without being boring or flavorless. As a bonus, (for the gluten-free) it does not contain any flour or starch thickener.
Plum Claflouit

unsalted butter for greasing the baking dish
1 pound Italian Prune Plums, cut in half, pit removed
8 eggs
3/4 cup granulated sugar
1 teaspoon vanilla extract
1/4 cup crème fraîche or heavy cream
1 teaspoons grated lemon zest
1/4 teaspoon salt
3 tablespoons plum brandy, optional
(Plum brandy is known as Slivovitz in Eastern Europe, Quetsch in France and Zwetschgenwasser in Germany. May local favorite is Blue Plum Brandy from Clear Creek Disillery)
powder sugar for dusting
To Prepare the Claflouti: Preheat oven to 375°F.
Butter a 10″ shallow ovenproof baking dish or pie pan.  Arrange the plum halves, cut side down, in a single layer.
In a large bowl, combine the eggs, sugar, vanilla extract, crème fraîche or heavy cream, lemon zest, salt and brandy. Whip until smooth. Pour over the fruit in the pan.
Bake for 30 to 45 minutes in the preheated oven, or until the custard is firm and just set and lightly browned. Let rest at least 15 minutes. Dust with confectioners' sugar before serving.
Substitutions and Options: The Claflouti can be made with apples, pears, peaches, nectarines or even cherries or grapes. The recipe was written to include vanilla extract but I prefer to substitute 1/2 vanilla bean, scraped to separate the seeds from the pod, and added to the crème fraîche or heavy cream and brought to a boil.

Wine Notes: Renwood Winery, Colheita Port, California. This uniquely Californian Port was made from the traditional Portuguese varietals grown in the hillsides of Amador County, California or Belle Vallée, Port of Pinot, Willamette Valley, Oregon. My friend, Joe Wright, makes the port from 100% pinot noir. A handcrafted award-winning port you can drink now or for years to come.
Makes one-10″ Claflouti, serves 6 to 8