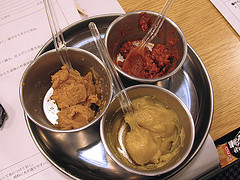 According to legend, miso was a gift from the gods to ensure humanity's health, longevity, and happiness.
It may do just that.
Miso is a traditional fermented Japanese food with amazing health benefits.  This creamy salty paste is commonly made with soybeans, but other beans and or grains such as rice and barley are often used as well.  After being inoculated with a vitamin B12 synthesizing fungus, the mixture of ingredients is allowed to ferment from as little as five days to as long as several years.  The result is a versatile food that contains protein and vitamins such as  B12, along with trace minerals such as zinc, manganese, and copper.
Many studies suggest miso can help protect against several forms of cancer, most notably breast cancer.  Some also suggest that miso can help treat radiation sickness, citing cases in Japan and Russia where people have been fed miso after the Chernobyl nuclear disaster and the bombings of Hiroshima and Nagasaki.
There are many ways to enjoy this "superfood", try including it in salad dressings, marinades, and sauces, adding a spoonful to mashed potatoes…the possibilities are endless.  Just remember, to avoid killing the beneficial bacteria present in miso, add it at the end of a recipe after turning off the heat.
Of course the most popular and widely recognized miso dish is the classic miso soup, which is eaten daily by much of the Japanese population.  Miso soup is quick and easy to prepare:
Easy Miso Soup
2 1/2 cups water
1 green onion, chopped
1/2 cup napa cabbage, shredded
1 small carrot, grated
1-2 tablespoons hijiki sea vegetables
1/4 cup extra firm tofu, drained and diced
1 heaping tablespoon miso paste, dissolved in 1 tablespoon warm water
In a medium saucepan, combine all ingredients except for tofu and miso.  Bring to a boil, reduce to low and simmer for five minutes.  Remove from heat and stir in miso.  Ladle into bowls and top with tofu.
Feel free to include other vegetables you like, such as mushrooms or bok choy.
Enjoy!
Image credit: Panduh on flickr creative commons.