Get the recipe for Minty Matcha Nanaimo Bars from Superfoods 24/7 by Jessica Nadel!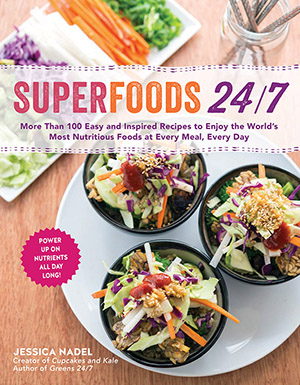 Superfoods are everywhere these days, from packaged foods to restaurant menus to media headlines. Some sound as though they're from another planet (maca, goji berries); others are hiding in plain sight (strawberries, almonds, sweet potatoes, cinnamon). But all of them are packed with vitamins, minerals, and other nutrients that keep us healthy!
Jessica Nadel showcases her 40 top superfoods with more than 100 recipes to eat 24/7—from on-the-go breakfasts to afternoon snacks to effortless dinners.
Related: Why Matcha is the Hippest New Food Trend
Complete with superfood fact files and nutritional information for each recipe, Superfoods 24/7 is sure to satisfy both devoted superfoodies and anyone who simply wants to eat better. It's never been easier to power up on nutrients—at every meal!
Minty Matcha Nanaimo Bars
Nanaimo bars are a quintessential Canadian treat. Named after the town from which they originate, they are rich slices of goodness, with a chocolate and coconut base, a creamy filling, and topped with raw chocolate.
Serves 25, gluten-free
Prep: 40 mins
For the Base:
½ cup (50 g) walnuts
½ cup (85 g) almonds
1 cup (180 g) medjool dates
3 tablespoons cacao powder
¼ cup (20 g) unsweetened shredded coconut
pinch of sea salt
For the Middle Layer:
3 cups (225 g) unsweetened shredded coconut
3 tablespoons agave nectar or maple syrup
2 tablespoons coconut oil
½ teaspoon pure mint extract (learn how to make your own mint extract)
2 teaspoons matcha powder
For the Top Layer:
1 x quantity Easy Raw Maca Chocolate Bark (see below)
Preparation
Line an 8 x 8 inch (20 x 20 cm) baking dish with parchment paper and set aisde.
For the base, grind the walnuts and almonds in a food processor until the consistency of a coarse flour Add the remaining ingredients and process until broken down; when pinched between your thumb and forefinger the mixture should stick together. If not, add a tablespoon of water and try again. Transfer to the baking dish and press down firmly in an even layer. Place in the freezer.
For the middle layer, wipe out the bowl of the food processor. Add the shredded coconut and process until it turns into coconut butter, about 4 to 5 minutes. Then add the remaining ingredients and process to combine. Add this layer on top of the base layer and smooth out with a spatula or the back of a spoon. Return to the freezer.
Make a batch of the Easy Raw Maca Chocolate Bark (see below) and add this to the pan as the final layer, smoothing it out with a spatula or the back of a spoon. Return to the freezer for 20 minutes.
Slice into 25 bars using a heated knife to cut through without breaking the chocolate layer. Store in an airtight container in the fridge or freezer for up to two weeks. If storing, in the freezer, remove 20 minutes before serving (10 minutes if storing in the refrigerator).
Easy Raw Maca Chocolate Bark
Serves 8, gluten-free
Ingredients
½ cup (125 ml) melted coconut oil
¼ cup (60 ml) agave nectar
½ cup (65 g) cacao powder
2 tablespoons maca powder
¼ teaspoon sea salt
Preparation
Line a small baking sheet with parchment paper.
Whisk together the coconut oil and agave in a bowl until completely mixed. Add the cacao powder, maca powder, and salt, whisking continuously until smooth. Work quickly as the mixture will start to solidify.
Pour the chocolate onto the parchment paper, using a spatula to get every last bit from the bowl. Place in the freezer to set for 20 minutes. Break into pieces and enjoy immediately. Store any remaining chocolate in the freezer.
Recipe from Superfoods 24/7: More than 100 Easy and Inspired Recipes to Enjoy the World's Most Nutritious Foods at Every Meal, Every Day © Quantum Publishing, 2015. Reprinted by permission of the publisher, The Experiment. Photo by Jackie Sobon. Available wherever books are sold. theexperimentpublishing.com