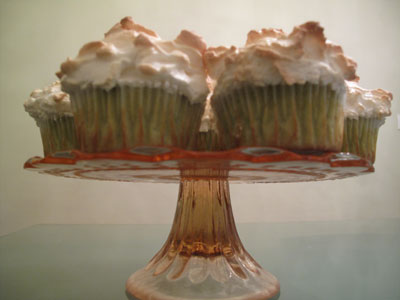 [social_buttons]Cupcakes are still the dessert du jour, but forget chocolate and vanilla — try the green Matcha Meringue Cupcakes instead. Two secret ingredients give them a delicate green hue — finely grated lime peel and matcha green tea powder, a premium powdered green tea that's used in the Japanese tea ceremony. Use organic ingredients to make the recipe even greener.
Even though these cupcakes are still a sugary, the addition of matcha green tea powder means each one will boast the benefits of green tea including weight loss, lowered blood pressure, decreased stress levels and increased energy. So when you try the Matcha Meringue Cupcakes recipe, you can feel a little less guilty about indulging.
12 Matcha Meringue Cupcakes
Cupcake Ingredients:
1 1/4 cups all purpose flour
2 teaspoons AOI Chef's Choice Matcha Green Tea
1 teaspoon baking powder
1/4 teaspoon salt
1/2 cup organic whole milk
1/4 cup organic buttermilk
1/2 teaspoon vanilla extract
6 tablespoons (3/4 stick) organic unsalted butter at room temperature
3/4 cup sugar
1 1/2 teaspoons finely grated lime peel
2 large eggs
Meringue Ingredients:
4 large egg whites, room temperature
1/2 teaspoon vanilla extract
large pinch of salt
1/3 cup sugar
1/3 cup powdered sugar
What to do: Preheat oven to 350 degrees F. Line 12 standard muffin cups with paper liners. Combine flour, Matcha, baking powder and salt in medium bowl; whisk until blended. Combine milk, buttermilk, and vanilla in small bowl. Using hand-held electric mixer, beat butter in large bowl until smooth. Gradually add sugar, beating until fluffy. Beat in lime peel. Add eggs, 1 at a time, and beat until blended after each one. Clean off beaters.
Using rubber spatula, fold 1/3 of dry ingredients into butter mixture. Add half of milk mixture and stir to blend. Fold in half of remaining dry ingredients, then remaining milk mixture. Fold in remaining dry ingredients. Spoon batter into paper liners, diving evenly. Bake cupcakes until toothpick inserted into center comes out clean, about 22 minutes. Cool cupcakes in pan 10 minutes. Transfer cupcakes to rack and allow to cool completely.
Meanwhile, increase oven temperature to 450 degrees F. Using clean dry beaters and hand-held electric mixer, beat egg whites, vanilla, and salt in medium bowl until soft peaks form. Beat in sugar, then powdered sugar, 1 tablespoon at a time, beating until firm peaks form, about 5 minutes. Working with 1 at a time, mound 1/3 cup meringue on cupcake. Using an offset spatula, seal meringue to top edge of paper liner, then swirl meringue decoratively into peaks. Place cupcakes on large rimmed baking sheet, spaced 2 to 3 inches apart.
Bake cupcakes until meringue is singed in spots, 3 to 4 minutes. Transfer cupcakes to rack and cool completely. Serve on same day made. Refrigerate any leftovers.
Photo by Jan Sheehan