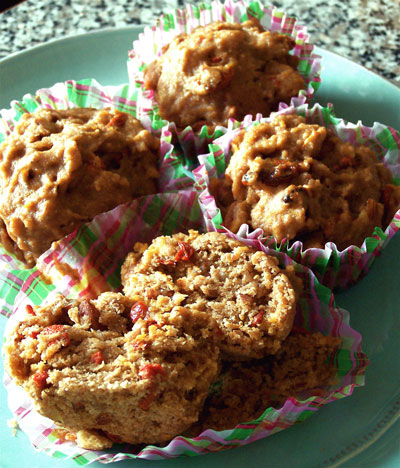 Going Meatless on Mondays doesn't have to mean deprivation of all your favorite foods. By making some simple changes to recipes, you can easily swap out the animal products for vegan options. Here is a simple veganized muffin recipe, so you can start your Meatless Monday off with delicious, healthy, energizing and decadent baked good.
Tibetan Goji Berries are regarded in Tibet as the "Fruit of Longevity and Well Being". Goji berries have been traditionally regarded as a food that offers your body longevity, strength-building, and sexual potency. Goji's are a complete protein source and a low calorie snack that strengthens your immune system, increases energy and helps to curb cravings. It has one of the highest antioxidant contents in all food, which helps to fight free radicals, keeping you young and vibrant. Goji's contain 18 amino acids, vitamin C, beta-carotene, 20 rare trace minerals, vitamin B1, B2 and B6 and vitamin E.
In honor of this Meatless Monday, let's boost our energy, keep ourselves looking and feeling young and chow down on some delicious vegan, anti-aging muffins.

Goji Orange Muffins
Prep Time: 15 min
Cook Time: 22 min
Yields: 12 muffins
Ingredients:
1 ¾ cups Whole Wheat Flour
¼ cup Sucanat or other natural dry sweetener
1 tablespoon Ener-G egg replacer (found at most health food stores)
2 teaspoons Baking Powder
¼ teaspoon Sea Salt
½ cup Almonds-chopped
1/3 cup Safflower Oil
1 cup Goji Berries
1 ¼ cup Soy, Almond or Rice Milk
Zest of ½ an Orange
Directions:
1) Pre-heat oven to 375 and prepare muffin tins with liners.
2) In a large bowl, combine the flour, sucanat, egg replacer, baking powder and salt.
3) In a medium bowl, whisk together the oil and milk.
4) Add the wet ingredients to the dry ingredients and stir until barely combined.
5) Gently stir in the goji's, almonds and orange zest.
6) Divide batter evenly into the prepared muffin tins.
7) Bake for 18-22 minutes or until a toothpick inserted into the muffin comes out clean.