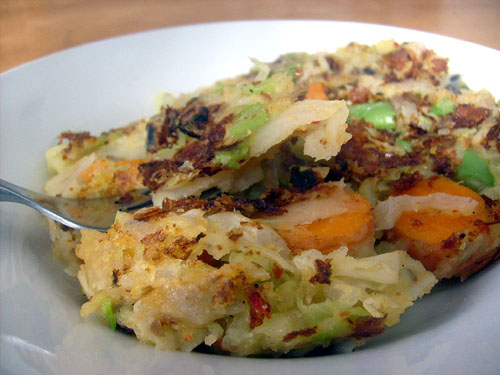 One of the best things about sourcing locally grown farm produce is that you're guaranteed to get a variety of different items as the seasons change.  Pulling the first new season Discovery apples out of my fruit and veg bags a few weeks ago put such a smile on my face. This week's enormous cabbage also made me laugh, partially because the basketball-sized monstrosity was even larger than my face.  Which of course left me facing an interesting question: what does one make with an excess amount of English cabbage?
It's another installment of the Veg Bag game, where I explore new recipes to use up the array of organic fruits and vegetables that I pick up every week. Carrots and potatoes are a familiar arrival (which have gone into crispy pancakes and veggie fritters) but this week's cabbage presented a new challenge.  I also received some lovely green beans about the length of my forearm – who says organic vegetables have to be smaller than conventional? With all these excellent British vegetables in hand, I had to go for an old-school British classic: bubble and squeak!
Bubble and squeak is an amusingly named dish traditionally made with leftover mashed potato and cooked vegetables from a Sunday roast. It's a great way to use up any leftovers you may have lying around, but of course it's delicious made fresh as well. It's also very quick and simple to make (and easy to clean up!) as I use a very approximate timing system to boil all the vegetables in one pot. Just grab pieces of the veggies with tongs to check whether they're done or not. But if you're nervous about over- or undercooking anything, just boil all the veggies in separate pots. Another hint: use a decent amount of butter or oil in the frying pan in order to get a good crispy browning on the veggie patty. As the dish lightly fries in the pan, listen closely for the 'bubble' and 'squeak!'
Bubble and Squeak with Farm-Fresh Vegetables
What You Need:

2 medium sized potatoes
1 carrot
1/2 a large cabbage (you can see just how large to the right)
A handful of green beans (peas would work well too)
Other variations: you could replace the cabbage with kale or another leafy green like chard.  Leftover mushrooms would also be delicious and I believe sauteed onions are a traditional addition, I just didn't have any in the kitchen. Enjoy experimenting with whatever you've got handy.
A good chunk of butter, maybe about 2 tbsp.
What You Do:
1.  Bring a large pot of water to a boil.
2.  Slice the potatoes and carrots into small pieces and add to the boiling water.
3.  While the root vegetables are cooking, chop the green beans and dice the cabbage into thin shreds.
4.  Once the potatoes and carrots are a few minutes away from soft, toss in the green beans. After about two minutes in the boiling water, add the cabbage as well.
5.  Once everything appears to be cooked, drain all the vegetables. Once they've cooled off a bit, grab a fork or potato masher and smoosh all the potato pieces into a chunky mash. It's okay if the other veggies get a bit battered as well, this dish isn't famous for its attractiveness:)
6.  Heat the butter in the pan over low heat. This is a good time to saute some onions if you've got any.
7. Once the butter heats up a bit, add the vegetable mash to the pan. You can also do this in patties for individual servings.
8.  Let the mash fry until it browns and crisps on the bottom, then flip over and do the same for the other side.
9.  Serve while still hot and crispy! Delicious with ketchup and serves 2 hungry people as a main vegetarian dish or four people as a tasty side.