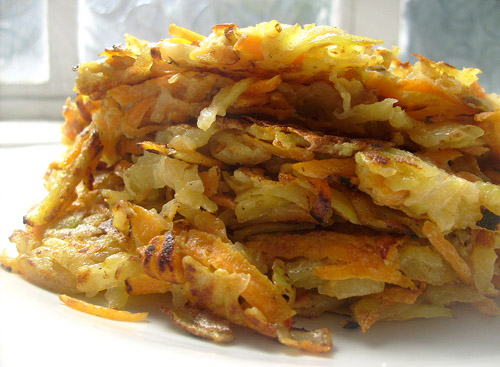 Carrots straight from the farm are dirty little freaks. Knobbly, hairy, misshapen and covered in soil, these root vegetables bear no resemblance to the neon orange and uniformly shaped clones found in your average supermarket plastic bag. But I love knowing where the vegetables came from and supporting local farms through my veg bag of organic produce (British equivalent of a CSA). I enjoy confronting an array of unfamiliar vegetables or familiar vegetables in unfamiliar guises like a large green ball of cauliflower that's nearly 90% leaves. My favorite new game is figuring out how to use all these vegetables in delicious vegetarian dishes.
However, I've been having a bit of trouble with the carrots as they've always been lower down on my list of favorite vegetables. Once the more perishable items like the spinach and tomatoes have been eaten in fresh salads, I find myself with a big bowl full of dirty carrots and potatoes. It's like getting to the harder advanced levels of the How-To-Cook-Up-Your-Veg-Bag game and I need to challenge myself to solve the cooking puzzle. So I've written up two simple recipes that explore the wonderful world of carrots and potatoes: a Carrot Potato Pancake and Crispy Veggie Fritter that's essentially a vegetarian meatball. Perhaps it should be called a veggieball. Regardless, both recipes are simple and tasty and a great way to use up any root vegetables you've got lying around. Enjoy!
Carrot Potato Pancake
What You Need:
2 carrots (ideally freaky looking ones from the farm)
2 potatoes (the dirtier the better, but make sure to clean them!)
1/2 small onion
1 tbsp flour
1 egg
salt and pepper
extra spices if you like- white pepper, cayenne, oregano, etc.
olive oil
What You Do:
1. Grate the carrots, potatoes, and onions into a big bowl.
2. Beat the egg and add to the bowl of vegetables, then add the flour and spices and mix well.
3. Heat a splash of olive oil in a pan. Grab handfuls of the mixture, squeeze out the extra juices, and flatten into pancakes to place carefully in the pan.
4. Flatten the pancakes a bit more with a spatula and lightly fry until browned and delicious on both sides. Really tasty with spicy ketchup, which is just ketchup with a generous squeeze of chili sauce or tabasco. Mmmm.
I grated a whole bunch of carrots and potatoes for the pancakes and then found myself stuffed silly with a big bowl of leftover carrots and potatoes. So I stuck the mixture in the refrigerator while I contemplated another recipe to use the remainder of the vegetables. I decided to use the rest to make up some crunchy fried veggie fritters – they're sort of like a vegetarian meatball. The recipe is slightly more involved than the pancakes, but you can grate the root vegetables for both at once and save yourself some work.
Potato Carrot Veggie Fritters aka Vegetarian Meatballs
What You Need:
All the ingredients from the above pancake recipe (carrots, onions, potatoes, flour, egg, spices)
1 additional egg
small shallow bowl of flour
small shallow bowl of breadcrumbs (if you don't have breadcrumbs, you can make some with two slices of bread – directions below)
olive or canola oil
What You Do:
1. If you don't have breadcrumbs, toast two pieces of bread until the moisture is gone and the bread crumbles easily. Crumble into a bowl. This is a great way to use up the ends of the loaf if you don't like eating them!
2. Prepare the carrot potato onion mixture from the pancakes recipe by grating all the vegetables with the flour and egg and adding spices.
3. Start heating a small pot with an inch or two of oil in the bottom.
4. Set out a breading station of flour, beaten egg, and bread crumbs (see photo to the right).
5. Grab a handful of the vegetable mixture and squeeze out the excess juices. Dip the ball in the flour, then egg, then breadcrumbs. It's a bit messy and the ball may fall apart a bit through the process, but the final breadcrumb layer should help hold everything together.
6. Once the oil is hot, carefully lower the encrusted veggie-ball into the pot with a slotted spoon and fry until crispy and brown on all sides.
7. Remove from the pot with the spoon and place on a paper towel to soak up some of the oil.
8. Repeat until you run out of the veggie mixture, replenishing your breading station bowls as necessary.
These fritters are delicious to eat on their own or with numerous kinds of dipping sauces such as a warm marinara sauce. You could also try mixing parmesan cheese or some sort of spice into the breadcrumbs for a few tasty variations. Happy Meatless Monday!