In the history of Southern cooking, this Low Country Okra and Tomato Soup recipe goes way, way back. Its essential ingredients, okra and tomatoes, comprise the original combination of crops connecting West Africa and America. This dish simmered away in cast-iron pots over open fires as well as in hearth kitchens indoors, from Williamsburg and Charleston through the Piedmont regions of North Carolina, Georgia, and beyond.
Known and beloved in the Low Country as "okra soup," it also goes by "okra gumbo" and "stewed okra." It can be drier or juicier, depending on the proportion of tomatoes, cooked for hours over low and slow coals.
Bacon or fatback is its standard start, but olive oil and garlic make a lovely, vegan version. Start with vine-ripe juicy tomatoes and petite pods of okra in the summertime, but know that a winter version made with canned tomatoes and frozen chopped okra brings wonderful flavor to your cold-weather menu. Cornmeal-based bread is not an official requirement here, but I find the pairing so pleasing that it's simply a matter of which kind: corn cakes or skillet cornbread?
Low Country Okra and Tomato Soup Recipe
Ingredients
2 tablespoons vegetable or olive oil

½ cup chopped onion

2 cups chopped okra, fresh or frozen

2 cups peeled chopped canned or fresh plum tomatoes, with juice

½ teaspoon salt

½ teaspoon freshly ground pepper
Directions
In a large, heavy skillet, heat the oil over medium heat until a bit of onion sizzles at once. Scatter in the onion and cook, tossing it often, until it is softened, shiny, and fragrant, 3 to 4 minutes.

Add the okra, tomatoes, salt, and pepper and stir to combine all the ingredients evenly. Bring them to a gentle boil and then adjust the heat to maintain a gentle simmer. Cook, stirring and scraping to keep the stew from sticking, until the okra is tender and the tomatoes have formed a thick, pleasing red sauce, 20 to 25 minutes. Transfer to a serving dish and serve hot or warm.
---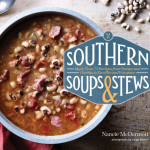 This recipe is adapted from Nancie McDermott's new cookbook,  Southern Soups & Stews, which opens the window on the traditional cooking in homes, faith communities, down-home cafes, and fund-raising annual gatherings from Virginia and Florida to Arkansas and Louisiana. These recipes serve up soups and stews seasoned with history, offering us a glimpse of how people farmed, cooked, and celebrated life over time.