In honor of National S'Mores Day, I've rounded up my favorite s'mores recipes.  Enjoy s'more because they don't call them s'lesses.

Of course, we know that s'mores are a sometimes food, but once in a while it's nice to treat yourself to a little nostalgic decadence. Here are a few grown-up S'mores Day options that call back to those days by the campfire.
The Shortcut S'More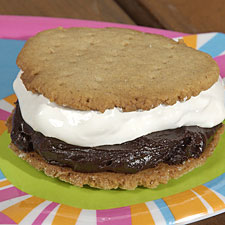 The folks at King Arthur Flour have a great recipe for a s'mores made with easy homemade graham crackers. I love this recipe because I hate having to buy that annoyingly large box of graham crackers which inevitably go stale.  You simply roll the graham cracker dough into balls and flatten them with a glass. You can make them at home in the oven or as the good folks at King Arthur suggest, wrap the assembled s'mores in aluminum foil and throw them on the turned-off grill so that "when you sit down to dinner … by the time you're through, the s'mores will be ready: nice and warm, and oozing chocolate and marshmallow."
Fernet S'more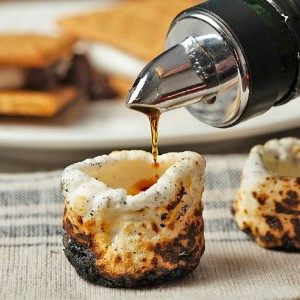 I found this first recipe while researching camping cocktails and this one is devilishly easy. Recipe courtesy of Fernet Branca.
Ingredients
1 bottle Fernet Branca

1 toasted marshmallow
Directions
Roast a jumbo marshmallow.
Carefully empty the insides (Enjoy the fluff).
Cool for a little bit so it takes shape.
Pour in Ferent Branca to mashmallowey brim.
S'mores Frappuccino® Blended Coffee
This Starbucks drink is like a s'mores on the run and you don't need a campfire. This drink contains marshmallow-infused whipped cream, milk chocolate sauce, a blend of graham, coffee, milk and ice finished off with more marshmallowy whipped cream and a graham cracker crumble.
But, be forewarned. This one will packs a calorie whallop. A grande (16 ounces) with whole milk contains a whopping 500 calories.  That said, a tall (12 ounces) with non-fat milk contains only 310 calories. But who ever said a s'more would be low calorie?
Photos (in order): Shutterstock.com, King Arthur Flour, Fernet and Starbucks.