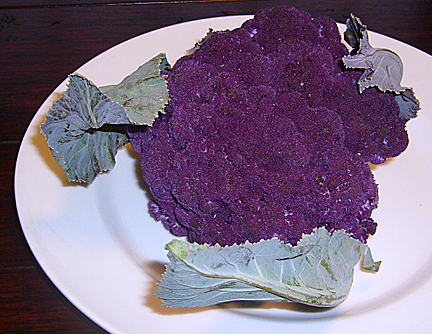 Broccoli and cauliflower are the same plant. The different varieties are called cultivars. The plants have been selectively cultivated to enhance certain characteristics not unlike breeds of dogs, for example. All dogs, be they Chihuahua or St. Bernard are the same species.
The plant, Brassica oleracea, can be found in such cultivars as white, orange, yellow and purple cauliflower, the beautiful, green Romanesco cauliflower, broccoli, and the cross-variety of brocciflower. These varieties often available at farmers markets in the U.S. are just being introduced into the market in the U.K.
As with other members of the cruciferous vegetables (kale, cabbage, mustard greens), cauliflowers and broccoli are nutrient-dense. The colored varieties have been shown to be higher in some nutrients, their color is a good indication of the nutrient content. Gold cauliflower is higher in beta-carotene and the purple variety is higher in the same anthocyanins that make blueberries and red cabbage healthy. (Recipe for Broccoli and Cauliflower Salad after the jump).
Broccoli and Cauliflower Salad
1 head broccoli, medium-large size
1 head cauliflower, medium-large size, a color is especially nice if you can find it
1 red onion, chopped
2/3 cup dried currants or raisins
1/2 lb bacon (you can also use turkey bacon)
3/4 cup cashews
2 tbs. Honey
1/2 cup canola mayonnaise
1/3 cup honey
1/4 cup cider vinegar
1 tbs. Soy sauce
1/4 cup olive oil
1/8 tsp. Cayenne
1/4 tsp salt
Heat oven to 360 degrees.
Toss the 2 tbs. honey and cashews and cayenne and salt. Spread out on a baking sheet. Place bacon on a baking sheet. Bake both of these items in the oven. Remove the cashews at 8 minutes, break apart when cooled. Cook bacon for about 15 minutes until crisp and browned. Remove from sheet and place on paper towels to drain.
Cut the broccoli and cauliflower into florets. Save the stems for use in soup, place the florets in a large bowl. Chop the onion and add to the florets. Add the currants. Crumble in the bacon.
Make the dressing by combining the olive oil, mayonnaise, 1/3 cup honey, soy sauce and vinegar. Toss the dressing with the salad parts and chill. Just before serving toss in the cashews to keep them crisp.