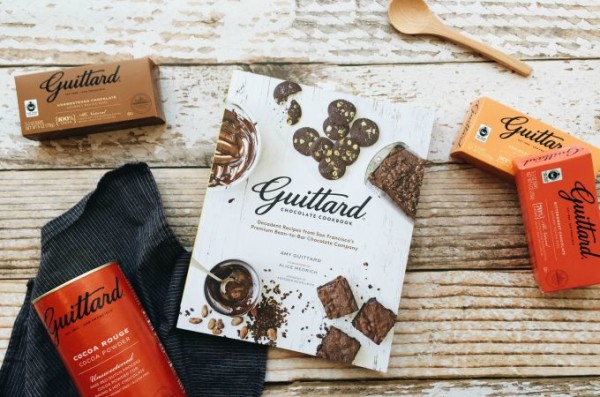 Amy Guittard, fifth generation chocolate maker at the Guittard Chocolate Company, has written a wonderful new cookbook, Guittard Chocolate Cookbook: Decadent Recipes from San Francisco's Premium Bean-to-Bar Chocolate Company. Founded almost 150 years ago in San Francisco by Amy's great-great-grandfather Etienne, Guittard is America's oldest continuously family-run chocolate company and has been making artisan chocolate for home bakers, pastry chefs, and confectioners alike.
The 60 recipes in the book share the story of the Guittard family and friends and chocolate traditions all while connecting the reader with chocolate's history, culture, and artistry.
Amy is the first Guittard woman to join the family business. Not only does she oversee marketing (including the company's brand refresh) she has taken an increasingly larger role in sourcing and sustainability efforts visiting and collaborating with growers, buyers and chefs. As part of her commitment to sustainability, Amy recently traveled to the Ivory Coast where she met with various partners, farmer groups, and government entities regarding the Ivorian market, their work with World Cocoa Foundation (WCF), and their sustainability and sourcing efforts.
Check out this video.  I warn you though — this video will make you hungry!
If you want to see more, Amy's photos are on Guittard's Instagram.

Salted Chocolate Shortbread Recipe
"My friend Ben harvests sea salt on the Oregon coast. He traipses knee-deep out into the chilly Pacific Ocean to gather buckets of water and then he carries the salt water home, where time and heat will work their slow magic. The result? Beautifully intricate flakes of sea salt. As with anything you cook or bake, using good ingredients is crucial, even if that ingredient has just a small role in the final product. Everything from the cacao beans we purchase down to the fleur de sel sprinkled on top of these cookies are top quality, which is what makes this recipe so good. The Cocoa Rouge adds richness to this shortbread, and the buttery yet crunchy texture can satisfy a craving at any time of day."
Ingredients
1 ¼ cups [150 g] all-purpose flour
1⁄3 cup [35 g] Guittard Cocoa Rouge (Dutch-processed unsweetened cocoa powder)
½ tsp baking soda
½ tsp salt
¾ cup [170 g] unsalted butter, at room temperature
¼ cup [50 g] granulated sugar
½ cup [100 g] firmly packed dark brown sugar
¾ tsp vanilla extract
Fleur de sel for sprinkling
Directions
Preheat the oven to 350°F [180°C]. Line two baking sheets with parchment paper.
In a small bowl, combine the flour, cocoa powder, baking soda, and salt. Set aside.
In a large bowl, using a hand mixer, beat together the butter, granulated sugar, brown sugar, and vanilla until light and smooth, about 3 minutes. Gradually stir in the flour mixture until combined. Roll the dough into 1 ½ inch [4cm] balls and set them on the prepared baking sheets, leaving 1 in [2.5 cm] between the balls. Use the bottom of a flat cup to slightly flatten each ball, and then sprinkle the balls with fleur de sel.
Bake for 13 to 15 minutes, or until the tops are cracked. Transfer the cookies to a wire rack to cool. Store in an airtight container at room temperature for up to 1 week.