This wonderfully simple recipe for green beans comes from The Glorious Vegetables of Italy, written by Domenica Marchetti, a writer and cooking teacher who specializes in contemporary Italian home cooking.
Related: Green Bean Risotto, Tofu Pot Pie
The Glorious Vegetables of Italy is a beautiful new cookbook filled with wonderful recipes that will inspire you to bring more vegetables to the table. The photos alone will make you hungry!
Smashed Green Beans and Potatoes with Pancetta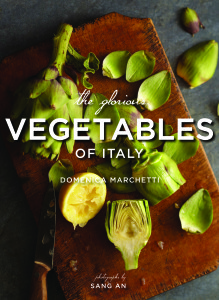 Domenica notes that you can easily make this recipe vegetarian/vegan by omitting the pancetta. The taste will be a little subtler, but still delicious. Just remember to use a great-quality olive oil.
Yield: Makes 6 servings
Ingredients
1 lb/455 g

medium-size yellow potatoes, such as yukon gold, peeled and cut in half crosswise

1 lb/455 g

fresh young green beans, ends trimmed

4 oz/115 g

pancetta, diced

1⁄3 cup/75 ml 

good-quality extra-virgin olive oil, plus more for drizzling

Fine sea salt

Freshly ground black pepper
Directions
Put the potatoes and green beans in a large pot and fill with cold water to cover. Set the pot over high heat and salt generously. Bring the water to a boil and reduce the heat to medium-high to maintain a lively (but not violent) simmer. Boil the vegetables until they are very tender, about 25 minutes.
While the potatoes and green beans are cooking, place the pancetta in a medium skillet (I use a well-seasoned cast-iron skillet) and set over medium heat. Sauté the pancetta, turning it frequently, for about 10 minutes, until it has rendered some of its fat and has just begun to crisp and turn brown. Remove from the heat and cover to keep warm.
When the vegetables are tender, drain them in a colander. Return them to the pot and slowly drizzle in the olive oil. Use a potato masher to mash the potatoes and green beans together as you drizzle. What you're aiming for is a somewhat lumpy, textured mash—no need to purée completely.
With a spatula or wooden spoon, scrape the pancetta and drippings into the pot and stir to combine with the potato-bean mash. Season with salt and pepper.
Spoon the mixture into a serving bowl and drizzle with a little more olive oil if you like. Serve warm or at room temperature.