This food memory and holiday shortbread recipe comes from Sous Chef Emily Chapman of Louro restaurant in New York City.
Every year for Christmas I awaited the package's arrival.  Sure, it wasn't the new toy I asked Santa for, because this package couldn't be found anywhere else in the world. When it came and I dumped out the contents to reveal the simple Christmas tin, the only feeling I can recall is: home. Inside this simple tin was something made with love. My grandmother Mima (Doris MacCallum), has been making her grandfather's shortbread cookies since I can remember. To this day it is still one of my favorite Christmas gifts, and has become a favorite among many others within our family and Mima's church. Don't underestimate these starchy white little pinches, they are truly some of the best things I've ever eaten
Mima's Shortbread
Ingredients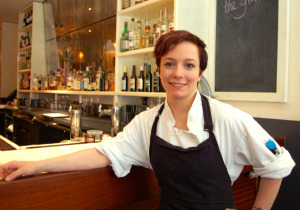 1 cup 

salted butter

1/2 cup plus 2 tbsp  

granulated sugar

2 ½ cups 

all-purpose flour, sifted
Cooking Directions
Preheat the oven to 325F.
Cream butter and sugar together. By HAND add the sifted flour and mix until it comes together in a smooth dough.
Let rest refrigerated for at least 40 minutes.
Roll into a 2 1/2 in log, and cut equal size rounds.
Using your thumb and point finger of each hand, pinch the top of each round.
Bake at 325 degrees for about 20 minutes – DO NOT BROWN!
Emily Chapman, Sous Chef of Louro restaurant in New York City, was working as a waitress when she discovered a love for the restaurant world and enrolled in the Culinary Education Center in Asbury Park (NJ) in 2009. Emily has since competed on Food Network's Chopped (the episode is to air later this year), came in first in the Skills USA New Jersey state culinary competition and placed fourth in the national competition.