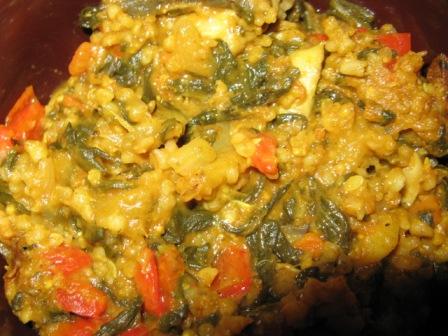 Indian food is my favorite, so I may be a little biased on this one. Nonetheless, the following is a delicious meal that I think most people can enjoy.
I am calling this "Homemade Indian Yum Yum" because it is full of spices often used in India, but it isn't actually based on any specific Indian dish.
[social_buttons]
Homemade Indian Yum Yum
Ingredients: 1 Red Pepper, 5 Mushrooms, 1 pound of Spinach, 1 Yellow Onion, 3 cloves of Garlic, 1 cup of Barley (can substitute this with rice if you prefer), 1 large Zucchini, 1 Leek, Salt, Olive Oil, Curry Powder, Turmeric Powder, Cumin Powder, and Coriander Powder.
1) Fry chopped onions (until they are soft), then add sliced mushrooms (and cook until they are done), then add chopped spinach (and cook until it is dark and soft).

2) Press garlic into the mix.

3) Chop zucchini, leeks, and pepper and add them to the frying pan.

4) Cook barley until soft in a separate pot.

5) Mix the barley in the frying pan with the vegetable mix.

6) Season it all with a bit of olive oil, curry, turmeric, cumin, coriander, and salt. (The spices really make the dish, so try your best to season it well!)

7) Enjoy!
Barley is very tasty (in my opinion) and also very healthy. It "strengthens the spleen-pancreas, regulates the stomach, and fortifies the intestines;… benefits the gall bladder and nerves; helps to reduce tumors, swelling, and watery accumulations such as edema," according to Healing with Whole Foods. According to this comprehensive book on all sorts of foods, written by Paul Pitchford, barley is useful in numerous other ways as well. Substitute it with rice if you want, but I'd recommend trying out the barley.
Image Credit: Zachary Shahan