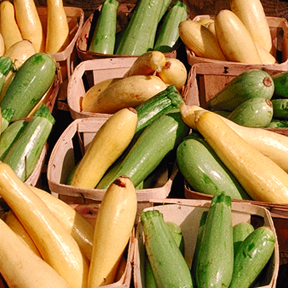 Many home gardeners gratefully complain about having too much zucchini during the summer once their plants' fruits ripen.  They just don't have enough to do with it.  In my house, it's even more of a problem because my husband, like Jessica Seinfeld's kids, only eats "green things" if I hide them.  He will actually eat this dish twice a year or so, mainly because it's deliciously creamy and cheesy.  It's kind of a sauceless lasagna, and it's pretty hard to mess up.  It makes a great meatless main dish or a substantial side dish, and can be altered to use whatever you happen to have on hand.  The recipe, after the jump
Zucchini Bake
two large zucchini (around a pound or so)
3/4 c breadcrumbs (panko work the best, but use what you have on hand, like your homemade crumbs)
1 1/2 c favorite white cheeses (I use a combination of shredded mozz and parmesano reggiano, because I always have those on hand.  You could use Romano, asiago, or fontina)
3/4 c milk product (You can use heavy cream, but I lighten it up with at least half-and-half, if not just plain milk)
Preheat oven to 375°
Thinly slice the zucchini width-wise.  If you're lucky enough to have a mandoline, use that.  I use the single-slice hole on my box grater.
Lightly oil an 8×8 casserole dish with olive oil.
Place a single layer of zucchini slices on the bottom of the dish.  Season with salt and pepper.
Pour 1/4 c of cream or milk over slices.
Layer 1/2 c cheese over milk.
Sprinkle 1/4 c bread crumbs over cheese.
Repeat layers twice more, finishing with bread crumbs.
Dot top with bits of butter.
Place dish on baking dish to prevent messy oven spills.  Bake 40 minutes until bubbling and golden brown.
Related Posts
Green Diva's Guide to Delicious Living: All About Zucchini
Green Diva's Guide to Delicious Living: Yummy Zucchini Bread