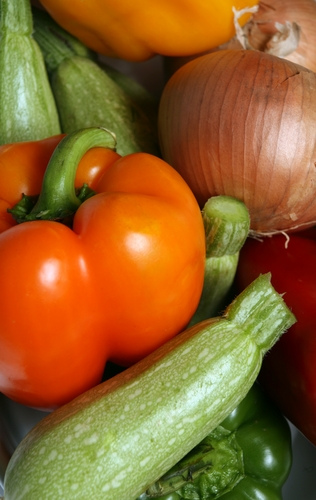 Spring is almost here, but at least here in St Louis, we're still facing a few chilly, rainy days. In fact, we've had several in the past few weeks. On days like this, I love a steaming mug of veggie chili.
Oh, sure, the Texas chili purists will claim that any chili with veggies ain't real chili. But, for what it's worth, this thick hearty stew satisfies the need for a filling, savory, spicy dish, and we call it chili in my house. It is naturally vegan and is really healthy–full of veggies and good-for-you proteins like beans and TVP. It can be made on the cheap with standard pantry ingredients and serves plenty. I like to cook up a pot and eat the leftovers for lunch.
To me, this isn't really even a recipe, because you can modify it to suit your tastes. It's more of a framework for a basic chili. You can alter the type of beans, add different veggies, or change the spices–whatever flavor combination works for you. A word on TVP–my own personal preference is a combination of Morningstar® Crumbles and bulk dried TVP. However, you could use all dried TVP, Morningstar® Steak or Chik'N strips, seitan, or completely omit it. However, I really feel like a liberal hand with the TVP gives it the feel of more traditional chili. Don't forget to use local or organic whenever possible
Easy Veggie Chili
Serves six
1/2 large onion, finely chopped
1 clove garlic, minced
2 Tbsp extra virgin olive oil
1/2 c chopped carrots
1 c frozen or canned sweet corn kernels
1 c chopped bell pepper (any color will do)
1 15 oz. can black or kidney beans
1 15 oz. can diced tomatoes AND
1 15 oz. can diced tomatoes and green chilies (such as Rotel)
OR
1 28 oz can diced tomatoes AND
1/2 chopped jalapeño pepper
1/2 package Morningstar® Veggie Crumbles
1/2 cup dried TVP
1 Tbsp cumin
1 Tbsp chili powder
salt and pepper to taste
Garnishes (optional)–sliced avocado, sour cream, cheddar cheese/cheeze, chopped green onions
Directions
In a large stockpot, heat olive oil over medium heat. Sauté onions and garlic until onions turn slightly translucent, 2-3 minutes. Add all other ingredients except TVP and cheese. Stir until well combined. Gently simmer for 15-20 minutes. Taste and adjust seasonings as necessary. Add TVP and simmer for another ten minutes, until veggies are no longer crunchy. Adjust seasoning again. Serve with choice of garnishes and crackers, cornbread, or corn chips.