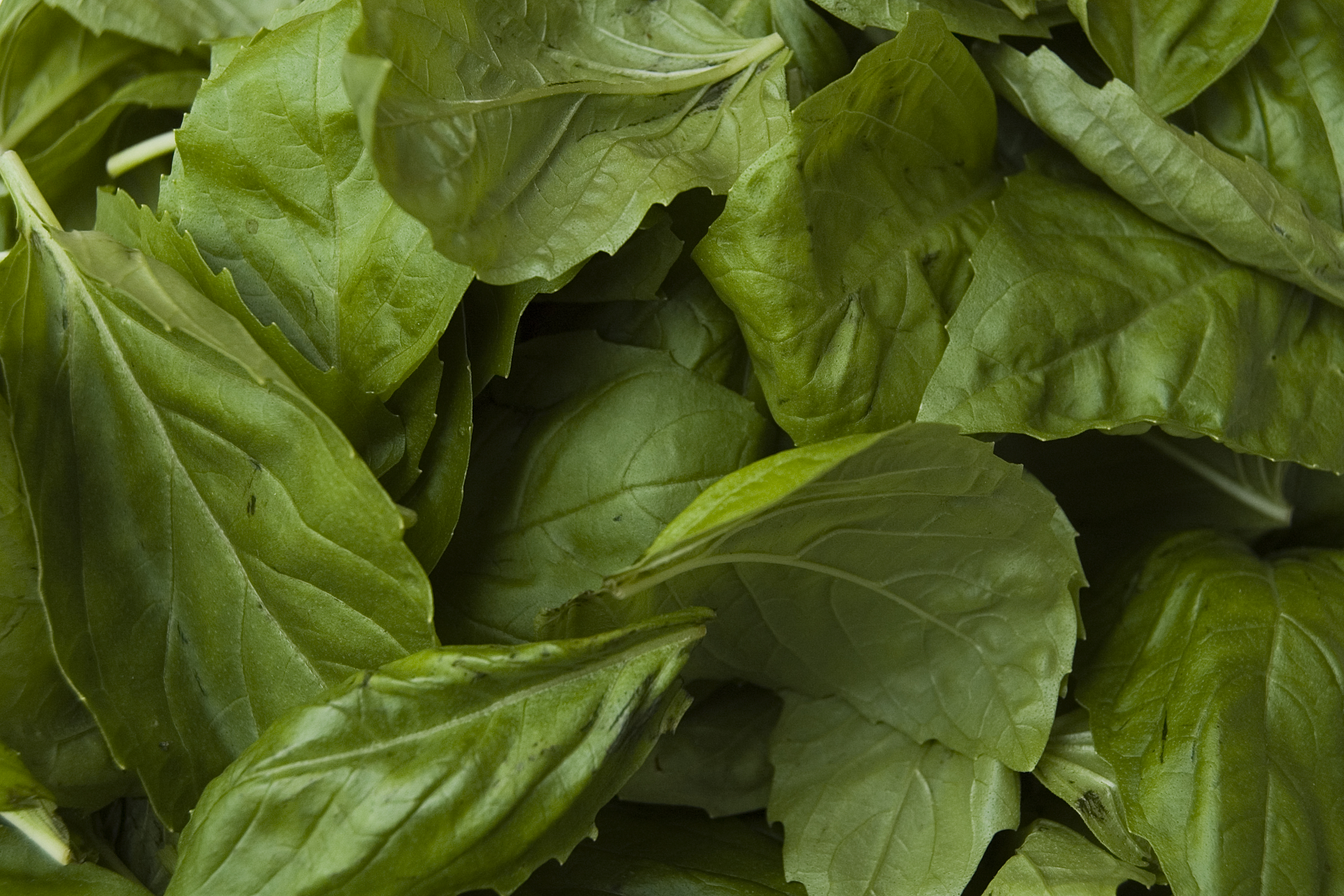 I was over at my lovely mother-in-law's house yesterday, and I noticed how well her window box full of herbs (a gift from my husband and me) was doing. The basil was out of control–in a good way. I asked her what she was going to do with the basil, and she said she didn't know.
"You should make pesto," I said to her. "It's really easy."
"What's that?" she asked.
Today, I tried out a local sandwich shop I'd never tried. Their veggie sandwich promised tomatoes, fresh mozzarella, and pesto, one of my favorite combinations. Unfortunately, their idea of "pesto" was mayonnaise with dried basil flecks in it. What? The blasphemy! Are there really that many people who don't know the awesomeness of pesto?I made my first batch of pesto last week from our own out-of-control basil plant. When I was making it, I realized how easy making this delicious, versatile sauce is–and forgiving. Pesto can refer to any type of paste made from ground herbs in a pestello–a mortar and pestle. You'll most commonly see it made with basil, but you can also make it with other leafy herbs or veggies, such as mint, arugula, or kale. And many people swear by the pestello method, or a hand-chopping method using a mezzaluna. However, I don't have that kind of time on my hands. My little food processor works just fine and keeps this process simple.
If you aren't vegan, do yourself a favor when buying cheese to use for pesto: get the real stuff, or at least a Grana Padano or domestic parmesan. Avoid the green can (yes, that green can) at all costs.
Easy Homemade Pesto
2 cups packed fresh basil leaves
1/2-3/4 cup freshly grated parmigiano reggiano
2 large garlic cloves, peeled (use roasted garlic if you want a more mellow flavor, but I prefer the bite of raw)
small handful of toasted pine nuts (toss them in a dry saute pan for a minute)
1/2 cup extra virgin olive oil
salt and pepper to taste
In food processor, pulse all ingredients except olive oil until a rough paste forms. While processing, stream in olive oil, making sure to scrape the sides of the processor down.
My absolutely favorite way to use pesto is served over soft, pillowy potato gnocchi, but it can also be used on pasta or other grains, with vegetables, or as a sandwich spread. Remember, with its strong flavors, a little bit of this goes a long way You can also freeze extra pesto for those winter months when you are craving something green. Simply spoon the pesto into ice cube trays until frozen, then store in freezer bags or containers.