To misquote Elmer Fund, " It's Tuna Season!"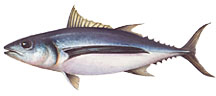 Pacific Albacore tuna season started a bit late this year but is now in full swing, running from July through September. In case you didn't realize it, Albacore, IS NOT its overfished and mercury-laden tuna cousins. It is troll or pole-and-line caught, endorsed as a "best choice" by Monterey Bay Aquarium Seafood Watch and certified sustainable by the Marine Stewardship Council.
Albacore tuna (Thunnus alalunga), also called Tombo tuna, is a medium-size tuna found in temperate, subtropical and tropical oceans. Albacore tuna live longer and grow more slowly than other tunas. Most Albacore is sold as high-priced "white meat" canned tuna on supermarket shelves. Fresh Albacore has whitish-pink flesh, fairly soft texture and a mild, leaner flavor compared to other tuna species. I do not recommend Atlantic Albacore because it has been substantially overfished, but Albacore populations have remained abundant and sustainable in the Pacific.
olive oil poached Albacore tuna sandwiches
This is not the tuna sandwich your mom use to make for you for lunch.
The following recipe is based on a Tuna Salad recipe I did for Fine Cooking magazine. This dish is appealing for the home cook because it is simple, versatile and flavorful. The idea behind poaching in olive oil is to impart the delicate flavor of the oil to the fish without deep frying. The key is to keep the temperature of the oil below 190°F, so you should have an instant-read thermometer for this recipe. Leftover poaching oil can be strained and stored in an airtight container in the refrigerator and used again to make a flavorful base for salad dressings.
For the Olive Oil Poaching Liquid

2½ cups extra virgin olive oil
2 bay leaves
2 sprigs thyme
2 cloves garlic, peeled and lightly crushed with the back of a knife
½ lemon cut into ½-inch thick slices
For the Tuna
6, 3-ounce Albacore tuna medallions, approximately ¾-inch think
juice of 1 lemon
kosher salt and cracked black pepper
For the Artichoke and Lemon Vinaigrette
1 ounce lemon juice
3 ounces oil from tuna or other extra virgin olive oil
12 canned artichokes bottoms packed in water, drained, rinsed and cut into thin slices
kosher salt and cracked black pepper
To Complete the Sandwich
1 red heirloom slicing tomato, cut into 6 slices
6 leaves leaf lettuce (such as Romaine, Bibb, Boston or Butterhead), cleaned
12 slices sourdough bread, lightly toasted
To Prepare the Olive Oil Poaching Liquid: Combine the olive oil, bay leaves, thyme, garlic and lemon in a saucepot small enough so the fish fits snugly, but large enough so the medallions do not touch each other and the oil will not spill over the sides. Place pan with oil over medium heat and heat until an instant-read thermometer inserted into the oil reaches 190°F.
To Prepare the Tuna: Rub tuna with lemon juice and season with salt and pepper. Submerge the tuna in the olive oil mixture and cook approximately 3 to 5 minutes, or until tuna is still pink in the center, turning the tuna over halfway through the cooking time. Be sure to keep the oil temperature at 190°F. NOTE: this may require adjusting the intensity of the heat during the cooking process. When cooked to desired doneness, remove the tuna from the warm oil and allow to cool.
To Prepare the Artichoke and Lemon Vinaigrette: Combine lemon juice, olive oil, salt and pepper in a stainless steel or glass bowl. Add the artichokes and let marinate for 10 minutes.
To Build the Sandwich: Layer 1 slice of toasted bread with lettuce, tomato, tuna and marinated artichokes. Sprinkle additional salt, pepper and lemon vinaigrette and top with second piece of toasted bread.
Subsitutions and Options: An alternative to stovetop poaching is to poach the fish in the oven. Place the tuna in a casserole or non-reactive ovenproof dish. Heat the olive oil, bay, thyme, garlic and lemon in a saucepan on top of the stove. When the oil mixture reaches 190°F, ladle the oil mixture over fish to completely submerge medallions. Transfer the dish to a pre-heated 250°F oven and continue cooking, uncovered, for 3 to 5 minutes or until the tuna is still pink in the center. Do not let the oil boil.
Wine Notes: For this dish, as with much of life itself, there are two paths you can travel. A dry white wine that coats the palate will broaden the ocean-like taste of the tuna, while a soft, delicate, slightly smoky, herbal- and garlic-scented red wine will bring out the earthy richness of the fish and match the flavored olive oil.
Recommended: A Signorello, Seta, Sémillon-Sauvignon Blanc, Napa Valley, California is the perfect ABC (anything but Chardonnay) wine. This 60/40 sémillon/sauvignon blend is silky smooth and lemony on the palate living up to its Italian moniker "Seta", (Italian for silk).
Alternatively, choose a Chehalem, "Three Vineyard", Pinot Noir, Willamette Valley, Oregon. The Three Vineyard is a wine blended from their three estate vineyards and bottled before their single vineyard and reserve wines. According to co-owners Bill and Cathy Stoller, the Three Vineyard represents the very populist notion that egos and individuality may elevate some brothers and sisters, but the rest of us together are just as wise and powerful, sometimes even more so.
Makes 6 sandwiches