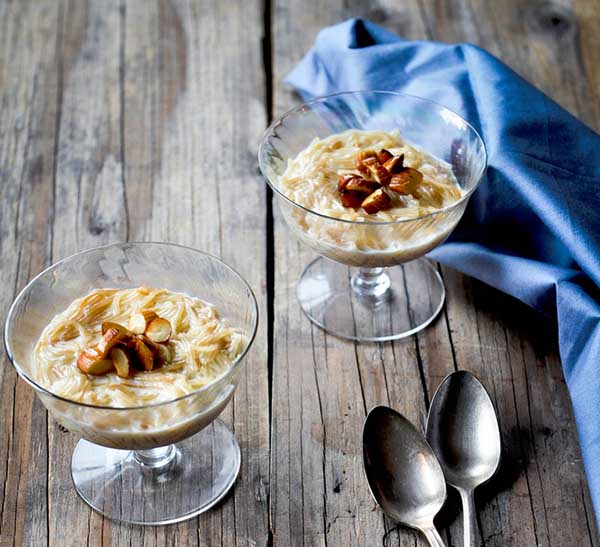 Today marks Karva Chauth, a traditional Northern Indian festival that harks from the villages of Punjab. Married women fast for the long life of their husband. Even though it is a challenging fast, Karva Chauth is welcomed and celebrated by Indian women in and outside of India as it celebrates camaraderie among married women.
Women traditionally eat sargi, the (Punjabi) name given to the delicious vermicelli kheer (pudding), early in the morning and then fast all day. Following a community prayer and storytelling at sunset, they break their fast after the moon rises.
Sargi – A Gift From Your Mother-In-Law
Sargi is given by mothers-in-law to their daughters-in-law for good luck. Usually a collection of sumptuous food, a traditional sargi package consists of various types of sweetmeats and clothes. Vermicelli kheer is an essential part of the package especially prepared by mothers-in-law for the occasion.
According to traditional custom, a married woman leaves (with her sargi) for her mother's house on the day prior to Karva Chauth. She eats it in the wee hours of the morning with her mother and other aunts who have gathered there. The fast begins at twilight, all day she will abstain from food and water.
A Traditional Recipe For Sargi

What you need

250 g (1 cup) wheat vermicelli
50 g (2 tablespoons) ghee
1 liter (4 cups)  full cream milk (you can replace with 2% reduced fat or even skim milk)
200 g sugar (again, this amount gives the kheer a mild sweetness, up or own the amount to suit your palate). Here sugar can also be substituted for brown sugar or jaggery for a better flavor
a few pods of whole cardamom seed
a few strands of saffron
chopped nuts of your choice
What to do
In a large pot roast the vermicelli in the ghee. Stir frequently to allow equal roasting.
Add the milk and cardamom pods and bring to the boil.
When the milk boils, reduce gas to a simmer and cook for a further 10-12 minutes. The vermicelli will swell in size and soak up the milk.
Switch off the gas and decorate with saffron and nuts.
The kheer can be had warm and or it can be cooled, refridgerated and served chilled.