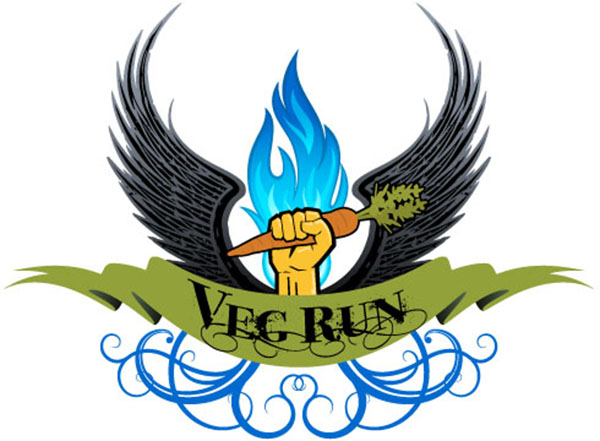 The folks at Physicians Committee for Responsible Medicine (PCRM) launched a plant-based running program, and they offered me a free account to try it out. I jumped at the change to prove that vegan athletics are totally possible!
The program includes training schedules for a half- and a full marathon along with coaches recipes and tips to fuel your workouts. The recipes are delicious, and the training schedule looks rock solid.
I'm always shocked when I hear people say that they can't eat vegan or vegetarian because they are athletes. I grew up an omnivore and was never athletic, and it wasn't until I started eating vegan that I began getting really fit. When I first went vegan, I was also riding my bike to work, about an 8 mile round-trip commute daily.
When I began working from home, I also started running, and a few years ago I completed a marathon training program, just for fun. My running partner was training for the Chicago Marathon, and I just wanted to see if I could make it through the rigorous training program. I did. All while eating vegan.
Vegan Athletics: Distance Running
I have a five-month-old baby at home, so I couldn't really commit the time to do a full marathon program. The half program, though, is totally doable, even with my time-crunched schedule. This program reminds me quite a bit of the marathon training that I've done before: three short runs during the week and a long weekend run. The short runs in the half marathon program are never more than 4.5 miles, which I can easily fit in while my husband watches the wee one before work.
Distance running on a plant-based diet is no more difficult than on an omnivorous diet. It's really all about calories and staying hydrated. You can easily get enough calories on a vegan diet. It's all about eating more and eating calorically-dense foods. Some of the things I ate a lot of while training for the marathon and will probably rely on again are:
nuts by the handful
pasta – I was addicted to vegan mac and cheese!
beans and tofu, especially lentils
non-dairy milks – There is nothing as satisfying after a long, hot run as a tall glass of icy cold chocolate soy milk. Trust me.
fresh fruit
One thing I'm especially excited about with this PCRM VegRun program is the recipes section. I'm looking forward to mixing things up a bit, diet-wise! They were kind enough to suggest a recipe that I could share with you. My contact at PCRM suggested the Oatmeal Goji Berry Balls. She said she had an intern working with her who was addicted to these things!
Oatmeal-Goji Berry Balls

Source: Therapeutic Chef: Recipes to Prevent Cancer, Heart Disease and Diabetes by Kristin Doyle
Makes 3 dozen
The goji berry looks like a red raisin and is very high in antioxidants. It has been used for centuries in Tibet to promote a long, happy life free from illness.
Ingredients
2 1/2 cups rolled oats or quinoa flakes
3 medium ripe bananas
1/3 cup raw almonds or walnuts, ground in a food processor until coarse crumbs
1 cup chopped pitted dates (chopped to same size as goji berries)
1 cup goji berries, soaked for 15 minutes in warm water, then drained
1/2 teaspoon sea salt or Himalayan salt
1 tablespoon vanilla extract
Method
Preheat oven to 325 F. Line a cookie sheet with unbleached parchment paper.
Place oats or quinoa flakes in a blender or a food processor and pulse on and off until oats/quinoa flakes turn into coarse crumbs/flour.
In a medium bowl, mash bananas with a fork. Add ground almonds or walnuts, dates, and drained goji berries. Mix well. Add salt, vanilla, and ground oats or quinoa flakes and stir well to combine. Use wet hands to form tablespoon-size balls. Place on parchment-lined cookie sheet and bake for 25 minutes, rotating pan halfway through bake time.
Notes:
You could also form these into balls and simply refrigerate for an unbaked treat.
Store in a covered container in the refrigerator for up to 5 days.
If you want to check out the PCRM VegRun, click here! They are asking folks for a $25 donation to join, and it gives you access to the exclusive training programs, recipes, and coach's tips to help support your plant-based distance running goals.
Are there any other vegan distance runners among you? I'd love to talk vegan athletics in the comments! What fuels your workouts? What are your go-to stretches after a long, tough run?