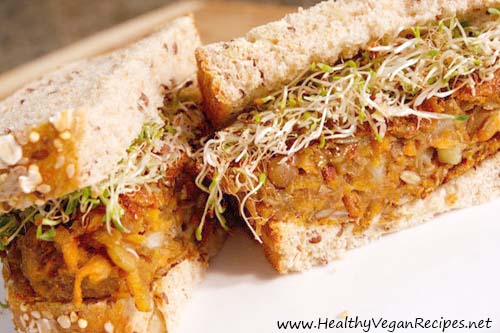 These lentil burgers are one of my most popular recipes. They're a big hit with vegetarians, vegans and meat eaters alike.
Lentils are a great choice for dinner because they're a very fast-cooking legume. They're also really healthy, since they're high in folic acid, iron and fiber – and low in fat. Low-fat plant proteins are an important part of a healthy diet – vegan or otherwise – and are also important for reducing our impact on climate change.
You can make things easy on yourself by cooking up a double – or triple – batch of lentils to use in other recipes – like this cannelloni in lentil tomato sauce.
The Indian spices are perfect to brighten up the lentils, but if you don't like cumin and coriander, you can replace them with any of your favorite spices or herbs. The burger mix takes to flavor variations really well, but it does make a large batch so don't be afraid to add lots of seasoning.
To watch a free video of me making this recipe, so I can show you the exact techniques that will make the perfect burger, go to Healthy Vegan Recipes.
Spiced Carrot Lentil Burger
Prep time: 30 min.; Cook time: 30 min.; Total time: 60 min.; Yield: 10-12 burgers
Ingredients
1 cup

lentils (dry measure)

3

carrots, grated

1

small onion, diced

3/4 cup (approx)

whole grain flour, any type

1 tsp

cumin*

1 tsp

coriander*

1/4 tsp

cayenne pepper*

1 tsp

sea salt (approx)

pinch

black pepper
*or 2 tsp of your favorite Indian curry or spice mix
Cooking Directions
The lentils have to be fully cooked before you begin. Put them in a pot and add enough water to cover them by 2 inches, and gently boil them with NO salt. You can add a bit of kombu (seaweed) to the cooking water while they boil for improved digestibility. Lentils will take about 30 minutes to cook.
While they're cooking, grate the carrots and dice the onion. Put them in a bowl and add the flour.
When the lentils finish cooking, drain any excess water and add them to the bowl with the carrots. Mash them slightly, and add flour (and some water if you need to) to get them to the point where they'll stick together. Then season with the spices, salt and pepper. You might find they hold together better if you put the mixture in the fridge or freezer for 30 minutes to chill.
Heat a pan to medium and form the lentil mix into burger shapes. Add a bit of oil to the pan and cook the burgers, about 10 minutes on the first side. Flip, and cook another 5-7 minutes. You can freeze the mixture to cook more later, or freeze the cooked burgers to reheat in the oven. Serve the burgers on a bun topped with sprouts, or on a bed of greens.
Image Credit: Heather Nauta of Healthy Vegan Recipes