High protein vegan breakfast food can seem elusive. Fear not! We have a bunch of awesome high protein breakfast recipes for you to experiment with!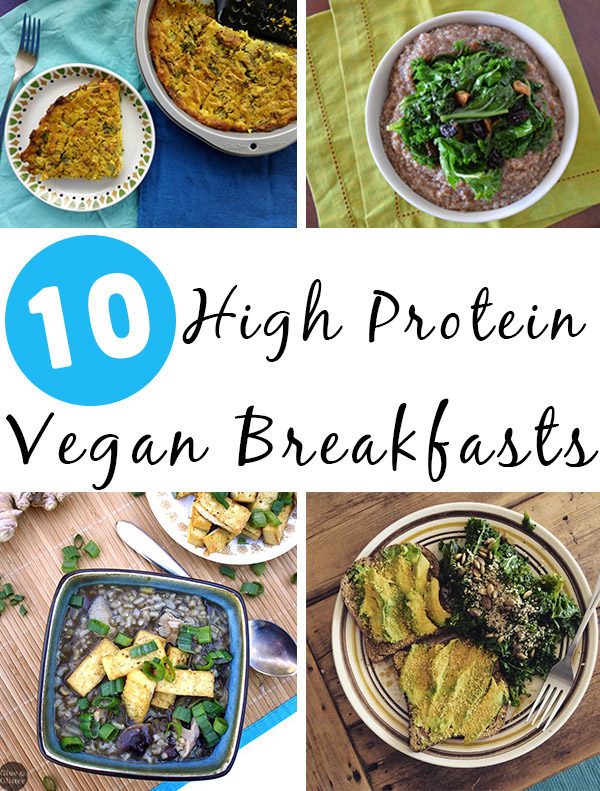 As a health and wellness type person, I'm always experimenting with new foods and new styles of eating that will make me feel my best. Lately I've found that eating a high protein breakfast makes me feel pretty dang good. Here's why protein at breakfast is important and some vegan high protein breakfast ideas to get you started!
Why Do we Need Protein at Breakfast?
Extra protein (and fats) at breakfast can make you feel fuller, longer. For means, this means I don't have to eat 'second breakfast' at 10am like I had to previously. And as I become more caffeine-sensitive, I have found that extra protein and fat seems to help temper that buzz from my morning tea, leading to steadier brain and body function.
Protein and fat are slower digesting, and helps to keep you fuller longer, so you're less likely to be starving mid-morning. Research has shown that a higher protein breakfast can lead to less cravings and better eating choices throughout the day as it helps balance blood sugar and keep hunger hormones in balance.
As a bonus, if you're focusing of fiber and protein, you're less likely to eat too much sugar at breakfast, which can cause spikes in blood sugar and keep you craving sugar all day.
This is one of the reasons Bulletproof coffee is so popular: the big benefit is the high fat coffee helps slow the caffeine. Usually Bulletproof is made with butter, but you can swap coconut butter and it's awesome. Find my recipe for vegan bulletproof coffee here.
10 Vegan High Protein Breakfast Ideas
A few months ago I gathered some awesome high-protein, mostly savory vegan breakfast recipes for our friends at Care2, and wanted to revisit the list and share some more options here.
1. Miso Soup
Miso is good for a daily breakfast, but it's especially good when you're feeling unwell or even a bit hungover. At its most basic, miso soup is just miso and hot water, but for a more substantial meal you can stir in noodles, greens, beans or tofu to make it heartier.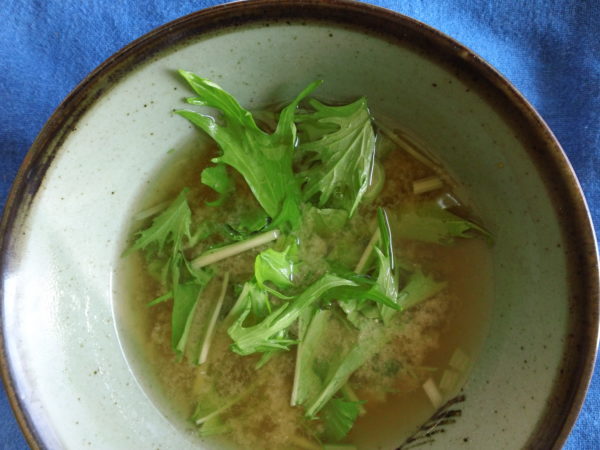 Made from high-protein chickpea flour (also known as garbanzo or besan flour), chickpea flatbread is easy, delicious and can be customized for a perfect breakfast.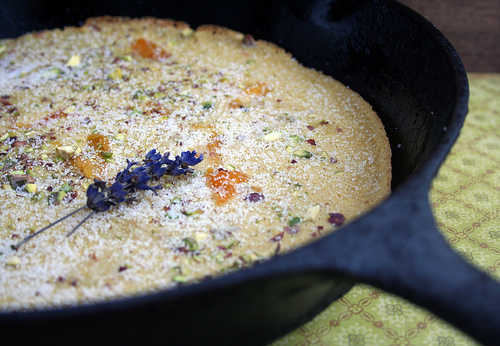 3. Congee:
Congee is a rice porridge, and is a staple in countries around the world. Stir in some miso, some broth, or veggies and beans for a more substantial meal.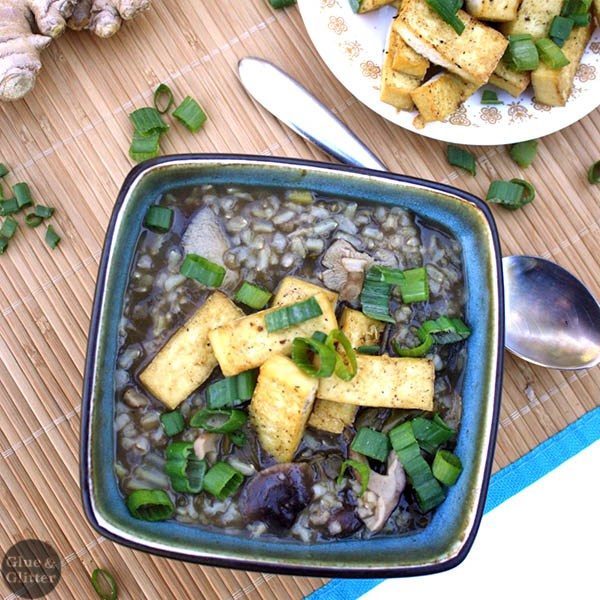 This recipe uses a mix of blended silken and sauteed regular tofu for an awesome breakfast or brunch. It's a great make- ahead breakfast, and is incredible as leftovers. You can also try Strata. It's like a frittata, but with bread chunks. Play with mix-ins to make it awesome. This version uses generous amounts of spinach for an easy breakfast or brunch meal.
Vegetable Hash is basically a stir-fry with potatoes. It's a great recipe for using up leftover veggies, beans or veggie burgers, and makes hearty, savory breakfast meals. Also great inside a burrito wrap!
6. Avocado Benedict:
When I was working for a cool vegan startup, I got paid to invent recipes! The recipe is secret, but you can see all the layers here for an awesome Avocado Benedict made with your choice of bread, sauteed spinach and fried tomatoes, and veggie sausages from your favorite brand; you could also use baked tofu or tempeh. Use chickpea gravy or this classic vegan Benedict sauce.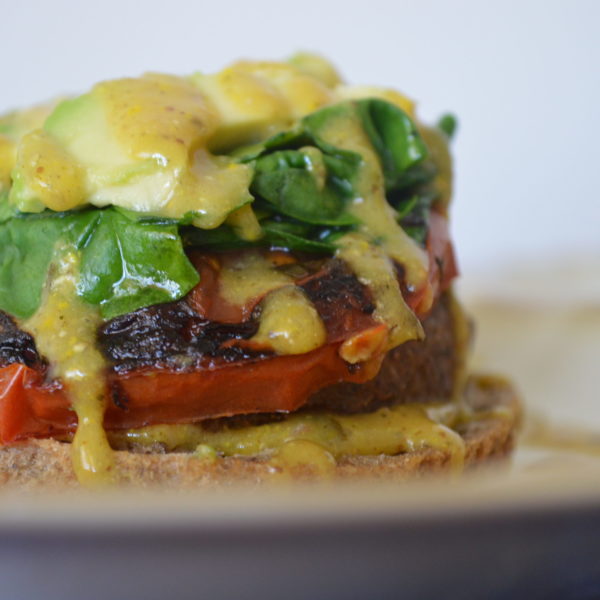 Usually eaten in Egypt for breakfast, ful muddamus, or ful medames, is made with fava beans, cumin, olive oil, and fresh herbs. Fava beans are the only beans I don't cook from scratch, since they take forever and have to be peeled after cooking. Choose a canned version, and peel the thick skins off before cooking.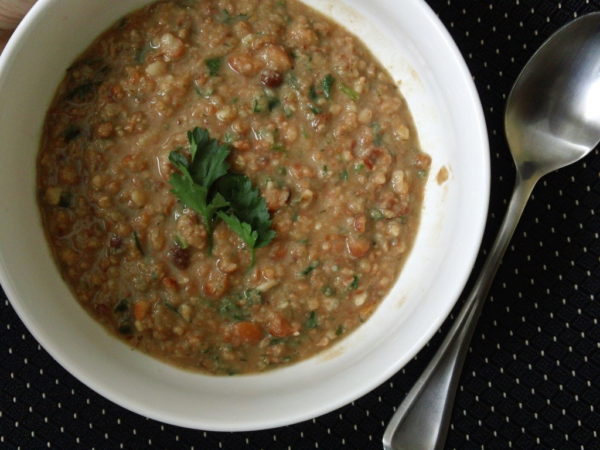 Finally, a scramble for veggies and omnivores! Make a big batch, so you can enjoy all week long as burritos, tacos, or just as is. It's so good my tofu-hating mom even eats it!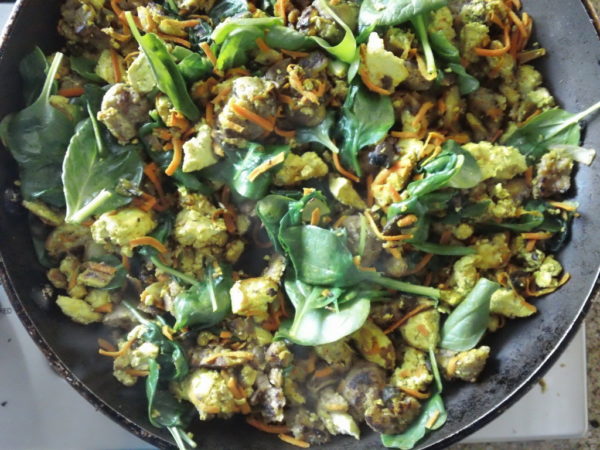 9. Whole Grain Porridge and Greens:
Whether you use teff, polenta or other mashy whole grains, these bowls are sure to satisfy with fiber, protein and a good dose of greenery to start your day.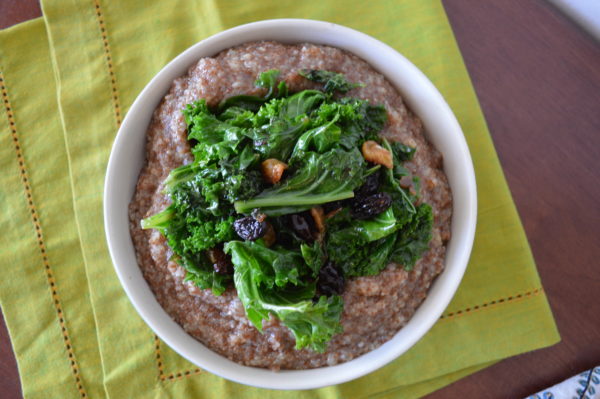 10. Avocado Toast
One of my favorite quick breakfasts: sprouted bread, lots of avocado, and nutritional yeast and salt as topping. I also like to top with homemade sauerkraut for an extra flavorful snack.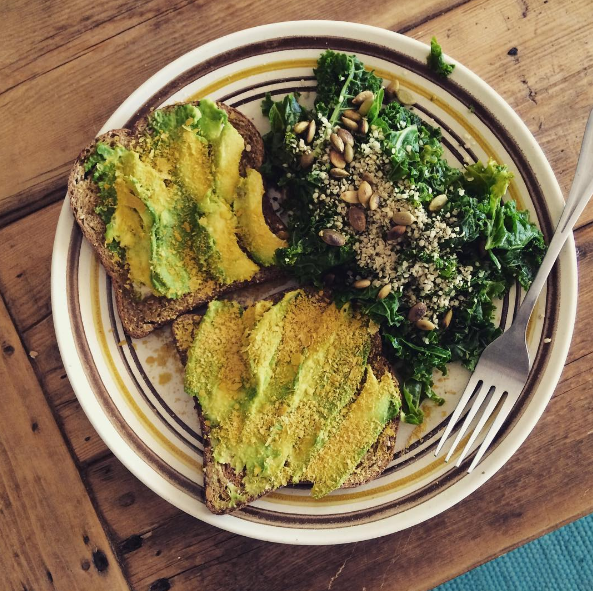 All images from @VibrantWellness/VibrantWellnessJournal.com, except Avocado Benedicts from Life Foods Inc., Congee from Glue and Glitter, and socca from EatDrinkBetter